MADISON, Wis. – Nordic is proud to announce that it's reached another milestone by hiring its 500th consultant. With the world's largest Epic consulting practice, Nordic has grown rapidly since hiring its first consultant a little more than five years ago in April 2010.
"We're proud to have reached this significant milestone while continuing to provide an unparalleled depth, breadth, and quality of consultants to our clients," Nordic Chief Consulting Officer Vivek Swaminathan said. "With our growing consultant team and expanding business line offerings, we're able to provide a wide variety of solutions to help our clients achieve their strategic objectives."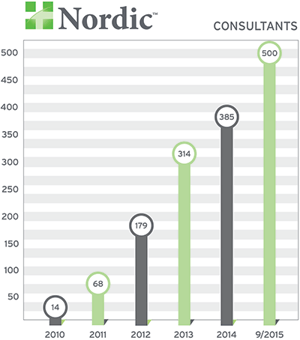 Nordic's growth has been fueled by the increased demand for its Affiliate, Optimization, and Remote Solutions business lines. The increase in mergers and acquisitions, as well as the industry trend of health systems extending their EHR to smaller, independent partners, has created demand for Nordic's Affiliate team that can define and implement extension projects quickly and cost-effectively. The Optimization team assists clients in improving efficiency and realizing additional returns on their EHR investments. Nordic's Remote Solutions team helps clients decrease their total cost of ownership and allows their staffs to focus on strategic projects by taking over support and maintenance.
This latest milestone comes on the heels of other recent announcements of strong growth from Nordic. Earlier this summer, Nordic was named to the HCI 100 with a ranking of No. 68 in the nation for revenue among healthcare IT companies. Last month Nordic was named to the 2015 Inc. 5000 list of the nation's fastest growing privately owned companies as well as Modern Healthcare's 100 Best Places to Work in Healthcare for the second-consecutive year.
About Nordic
Based in Madison, Wis., Nordic is the world's largest Epic consulting practice. Nordic is ranked No. 1 by KLAS for providing Epic EHR consulting services to healthcare organizations and is a KLAS Category Leader. Nordic has worked with 140 Epic clients and specializes in Implementation, Optimization, Affiliate, Advisory, and Remote Solutions. Its 500 consultants average over 10 years HIT experience and five certifications.