MILWAUKEE, Wis. – Nordic is proud to announce that it is one of the winners of the 2017 Bubbler Awards, recognizing the top 10 best places to work for young professionals in Wisconsin, NEWaukee announced Tuesday. Hundreds of companies were nominated by their employees, and winners were selected by a group of young professional leaders from across the state of Wisconsin. Nordic is the only company in Dane County to be recognized.
The nomination evaluation centered on what millennials are looking for in today's workplace including competitive salary and benefits, opportunities for advancement, and employee and community engagement.
"We're proud to be recognized for the strong culture we've built at Nordic," VP of Candidate Relations Matt Duffy said. "We've been able to attract and retain great people by allowing them to do what they do best and providing opportunities for growth and leadership among our team."
The Bubbler Awards are in conjunction with YPWeek. Founded in 2012, YPWeek is a weeklong platform of discovery, adventure and meaningful conversations about the issues that matter to young professionals.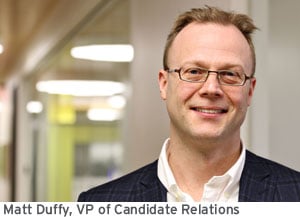 "We are proud to highlight these companies that make it a priority to create an environment that allows for not only young professionals, but all of their employees, to be able to connect to both their workplace and community in unique and valuable ways," NEWaukee CEO Angela Damiani said. "Wisconsin-based companies realize how important it is to keep our young talent here and encourage them to grow and become the next generation of leaders across all industries."
This latest award comes one week after Nordic was named one of Becker's Hospital Review's 150 Great Places to Work in Healthcare. In addition, Nordic has appeared on Modern Healthcare's Best Places to Work in Healthcare list in each of the past three years and was ranked No. 3 on Madison Magazine's list of the 10 best places to work in the Madison area among companies with over 100 employees.