MADISON, Wis. – In response to continued growth, Nordic has named Vivek Swaminathan the president of its newly expanded Managed Services division. Swaminathan has overseen Nordic's consulting services, candidate relations, and business line teams since 2012. During that time, Nordic has become the industry leader in Epic consulting and has consistently been one of the fastest-growing privately-owned companies in the nation.
With this move, Nordic increases its commitment to its remote support offerings by creating a new division for Managed Services, separate from its other business lines. Vivek has been selected to lead the growth and development of that business.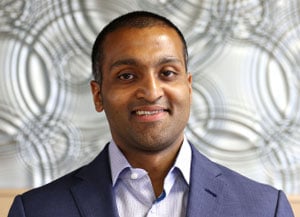 "We're seeing a shift in the industry," Swaminathan said. "More organizations are struggling to find qualified talent, to better predict operating costs, and to keep their system end users happy. Having expert consultants remotely tackle maintenance and support needs reduces all of these struggles. This is where the industry is headed, so we're excited to help organizations with our Managed Services, and we're grateful for the many partners we already have in this area."
Nordic's Managed Services consultants manage issues and support work with a fixed-price model and fast, guaranteed turnaround times. The remote consultants provide break/fix work and both routine and skilled maintenance tasks. Nordic also offers organizations system support for Connect or affiliate clinics and hospitals in addition to ticket resolution for go-live and upgrade projects.
After outgrowing its current Managed Services office space, Nordic is constructing a space that occupies an entire floor of its Madison home office that will be devoted to consultants who provide remote support. This new Managed Services office space will be completed in July.
In addition to the increased resources for Managed Services, Nordic has also announced the promotion of two team members to newly created executive vice president positions. Katherine Sager has moved up to executive vice president of consulting, replacing Vivek as the leader of consulting services and candidate relations. Matt Schaefer has also been promoted to executive vice president of strategic services, which connect the strategy of Nordic's advisory services through to the IT execution involved in implementation, optimization, data & analytics, population health, and affiliate extension solutions, including mergers and acquisitions.