MADISON, Wis. – Nordic debuted the 6,000-square-foot expansion of its Madison office today, gathering local community leaders and employees to celebrate the growth of the company's Managed Services and Data & Analytics business lines.
Nordic cut the ribbon on its new space at 8:45 a.m. on Thursday, July 27, followed by words from Nordic President of Managed Services Vivek Swaminathan and Greater Madison Chamber of Commerce President Zach Brandon. Local community leaders and Nordic employees were invited to take a tour of the office, which includes over 60 workstations, four conference rooms, two private offices, a spacious break room, and several open spaces for collaboration.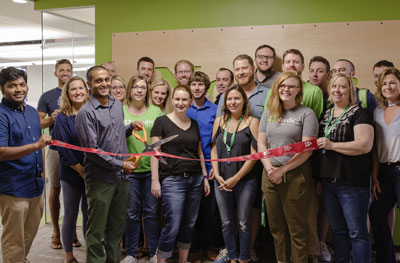 Nordic's office expansion is intended to accommodate rapid growth in its Managed Services and Data & Analytics divisions, in response to an increasing need for managed application support and data-driven efficiencies across the healthcare industry. Earlier this year, Nordic reached a milestone of 700 consultants and 200 clients and announced the expansion of its Managed Services division.
"We are excited to move into this beautiful space as we continue to grow our Managed Services and Data & Analytics capabilities," said Swaminathan. "It is a privilege to celebrate our expansion in our hometown of Madison with local leaders today."
Nordic partnered with Madison-based architectural design firm Potter Lawson, construction company Ideal Builders, and furniture partner Emmons Business Interiors to develop the second-floor office. The addition pairs bright, open spaces with modern design for a collaborative, creative workspace.