MADISON, Wis. – Nordic is the firm most frequently identified by healthcare organizations as a true partner according to the newly released KLAS report, Healthcare Consulting and Services 2018. The report, which includes 131 firms mentioned in interviews from nearly 250 healthcare organizations, focuses on which firms healthcare organizations consider to be true partners.
Since its inception, Nordic has put relationships above everything else with a focus on creating meaningful partnerships with clients. The KLAS report cites Nordic's deep Epic expertise, strong client relationships, and emphasis on client success as key reasons the firm is viewed as a true partner.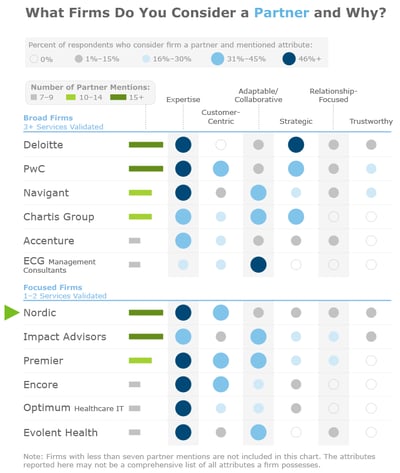 "Nordic totally owns their engagement," one Nordic client said in the report. "They are qualified and dedicated. I feel like they have skin in the game."
Organizations mentioned Nordic more than any other firm as a partner they plan to work with again. Among focused firms with at least six validations, Nordic had the highest percent of clients interviewed stating they plan to re-engage Nordic for a specific project.
Of Nordic's growing set of end-to-end solutions, this report recognizes Nordic's work in HIT advisory, revenue cycle optimization, HIT support and staffing, and implementation leadership.
In addition to traditional offerings, a special section in the report highlights a trend toward IT outsourcing services. Of those services, organizations were most interested in application management services. That trend aligns with Nordic's ongoing investment in its Managed Services division, where application experts manage ongoing application support and maintenance for healthcare organizations. Nordic Managed Services has grown to nearly 100 employees and 15 clients and receives an impressive 9.3/10 in Nordic survey satisfaction scores from clients. Nordic opened a newly expanded Managed Services space in 2017 and is currently looking for the next location to house this rapidly growing division.
"Nordic was one of our primary contracted firms," another client said in the report. "They have provided significant implementation work in the past for large, strategic partner projects. They continue to provide day-to-day managed-services support for our partners. Nordic's leadership stays in step with us, and their leaders help us come up with strategic innovations for implementation and support."
In the report, Nordic also has the most validations for clinical and revenue cycle implementation work. Nordic recently expanded its offerings in the revenue cycle space to more strategic work with the acquisition of the revenue cycle transformation practice of The Claro Group, which is led by industry veterans Cathy Smith and Shannon Yasseri.

As a part of Nordic's commitment to offer end-to-end solutions to meet the needs of healthcare organizations, Nordic has plans to expand its offerings to EHRs outside of Epic and to add ERP services.

"One of our maxims is 'Listen,' and we take that seriously," Nordic CEO Bruce Cerullo said. "We listen to our clients' evolving needs and craft effective offerings that lead to results. We're only successful if our partners are successful."