MADISON, Wis. – As healthcare organizations look for ways to improve end-user satisfaction and lower costs, demand for application managed services (AMS) continues to rise. In this growing space, Nordic Managed Services has emerged as an industry leader for Epic support and maintenance, according to the recently released KLAS report, AMS & Help Desk 2018. Nordic is included in the report as an AMS-Focused Firm and was highest-rated with an overall score of 93.5 in the report.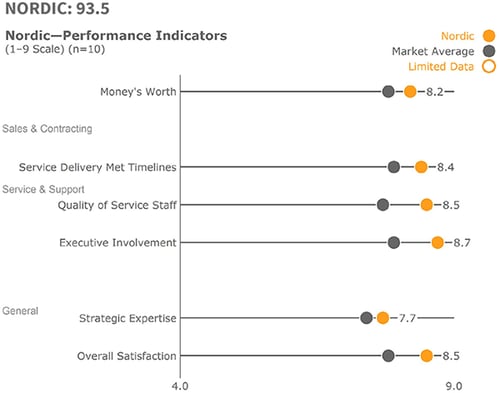 "We're grateful for the opportunity to help with these challenges facing so many organizations and proud of our work and the meaningful impact it allows healthcare organizations to make," Nordic VP of Managed Services Ian Mamminga said.
Nordic Managed Services offers remote enterprise application support, support for testing and upgrade management, master data management, and other data services. In the report, Nordic had the most validated sites of any firm that provides go-forward support for Epic.
With their deep Epic expertise, Nordic's analysts partner with healthcare organizations and are able to provide proactive improvements.
"Nordic exceeds our expectations," said one client in the report. "They are going beyond just doing the work; they are identifying ways that we can improve. They really go above and beyond. When we ask them to help build or coordinate something, we get more from them than we expect."
Nordic Managed Services also frees up healthcare organizations to concentrate on more strategic work without being bogged down with maintenance tasks.
"Working with the team from Nordic has been excellent," another client said. "Nordic definitely knows what they are doing. We have achieved our intended goals by working with them, and we will continue to maintain the relationship. Having them take over our day-to-day operations has allowed our internal staff members to work on high-level projects that they would not have been able to work on otherwise."
As the demand for Managed Services continues to grow, clients continue to rate Nordic highly. In addition to Nordic's technical expertise and quick problem resolution, the report states that a majority of clients claim Nordic exceeded their expectations thanks to account managers' strong communication and support resources' quick problem resolution.
"Nordic is great at meeting our agreed-upon metrics," a client said in the report. "They provide high-quality service and go beyond the metrics we expect of them. Nordic is always striving to do better. We don't have to worry about things that we normally worry about with other service firms."
Nordic has also outperformed the market average in giving clients' their money's worth, meeting service delivery timelines, quality of service staff, executive involvement, strategic expertise, and overall satisfaction. Over 75 percent of clients rated Nordic 90 or higher out of 100 for overall performance.