MADISON, Wis. – Nordic President of Managed Services Vivek Swaminathan has been recognized as one of Madison's innovative leaders by Madison Magazine. The publication has included Swaminathan on its annual M List, a who's who of Madison-area leaders who make noteworthy contributions to the local culture and economy. This year's list, which is announced in the November issue of Madison Magazine, focuses on health innovation. Swaminathan has led Nordic's innovative approach to health IT consulting and helped establish Nordic as a top workplace with an award-winning culture.
In April of this year, Swaminathan took on his current role, overseeing the continued growth and development of Nordic's Managed Services division, which offers offsite support and maintenance to Nordic's healthcare client partners. The expanding division helps healthcare organizations with the challenges of owning and maintaining critical systems. This includes finding and retaining talent, minimizing operating costs, and providing a positive end-user experience.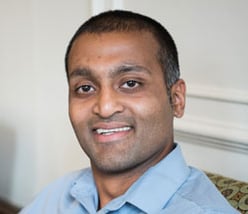 "We're proud to be leaders in innovation in Madison and in healthcare," Swaminathan said. "Helping organizations achieve their goals using our Managed Services model allows them to focus on their strategic objectives while having the peace of mind that their mission critical systems are well taken care of and optimized. I'm grateful for our strong client partnerships and am proud of our incredible team at Nordic that continues to show how we can improve healthcare together."
A Madison native and UW-Madison alumnus, Swaminathan has over a decade of health IT experience and has held numerous leadership positions in his six-plus years with Nordic. He joined Nordic as a senior consultant and onsite lead in 2011. Following a successful yearlong project, he transitioned to Nordic's Madison office, where he headed up the consulting services team as VP and also oversaw the candidate relations team and Nordic's business lines as chief consulting officer. In five years, Swaminathan helped grow and develop Nordic's team of consultants from 80 to 700 before moving into his current role.
This summer Nordic expanded its Madison office by 6,000 square feet to house its Managed Services and Data & Analytics remote experts. In addition to providing the infrastructure to better support clients, the expanded Managed Services division offers Madison-area consultants more opportunities in health IT consulting along with reduced travel.
The remote consultants manage issues and support work with a fixed-price model and fast, guaranteed turnaround times. Nordic's Managed Services provides break/fix work and handles both routine and skilled maintenance tasks while focusing on root causes to optimize systems. Nordic also offers organizations system support for Connect or affiliated clinics and hospitals in addition to ticket resolution for go-live and upgrade projects.