If you're thinking about exploring project management, you may be curious about Nordic's affiliate team, which helps our partners successfully approach mergers and acquisitions, Community Connect projects, and strategic partnerships with other organizations.
We sat down with Director of Affiliate Solutions Lauren Piazza and Senior Consultant Sara Balasundaram to discuss the core responsibilities and day-to-day life of an affiliate PM, as well as how to be most successful in the role.
If you'd prefer to read rather than listen, the transcript is below.
Show Notes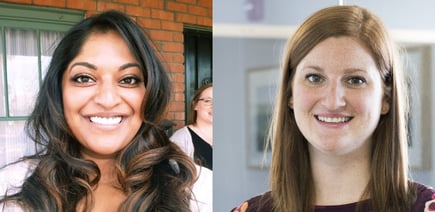 [00:00] Intros
[01:20] Sara's current project and role
[01:40] What makes affiliate project management different
[02:05] How to overcome affiliate project challenges
[03:55] Who affiliate PMs work with most closely
[04:52] The biggest impact Sara has seen in her work
[06:00] How Nordic supports affiliate PMs
Transcript
Lauren Piazza: Hi, this is Lauren Piazza from Nordic. I'm a director of affiliate solutions on our affiliate solutions team. Our affiliate solutions team focuses mostly on Community Connect, mergers and acquisitions, and strategic partnerships. Today, we have Sara with us, and she's going to be discussing with me what it's like to be an affiliate project manager.
Sara, do you want to talk a little bit about yourself?
Sara Balasundaram: Sure, hi. My name's Sara Balasundaram. I've been with Nordic for about two years. I have been working in the field, specifically with Epic, for about 15 years, starting as a consultant, senior consultant, and now I am a project manager.
Lauren: Great. Could you talk a little bit about your current project and role?
Sara: Sure. Right now, I am with a client working on an acquisition. I am specifically in charge of rev cycle, infrastructure, and an acute acquisition.
Lauren: It sounds like you have a ton on your plate.
Sara: Yes, definitely.
Lauren: What do you think makes your role as an affiliate project manager on your merger and acquisition project different from a regular implementation?
Sara: I think with this one, specifically, we're running on all cylinders at the same time. We've got the cart and the horse going together. We haven't signed our contract yet, but we have started build because it is a sure thing. We're going to get this done. That's not normal. Usually you get your contract signed before you start your build, but in this case, we're just trying to get this done by a specific time.
Lauren: Sure. What other challenges, besides contracting, which seems to always be one of those challenges, have you encountered on different affiliate projects?
Sara: I have worked on a project where we weren't allowed to speak to the legacy system. We weren't given permission and we needed to build an interface to bring over some of the information – so basically abstraction. And because we weren't given the permission, we had to go live and use a manual abstraction. After we went live, they were still abstracting it, and we had to use a lot of resources from the clinic, the hub, and even the project team to just get in there and abstract.
Lauren: Sounds like a lot of time.
Sara: It is.
Lauren: Another challenge that I've seen in the past is sticking to scope and identifying when we're kind of starting to stray, or scope creep, as we lovingly call it. Identifying how we can reel that back in or actually make those decisions to move forward with that too.
Sara: Scope creep is definitely real.
Lauren: Oh yeah. What have you found to make you most successful in overcoming hurdles or other challenges on projects?
Sara: For me, it's communication. Sometimes you may over-communicate, but I never see that as a negative thing. I need the project and the people on the project to know what I'm doing, where I'm at. I like to give leadership notice of what I'm doing. I like the project team to know what I'm doing, and Nordic. It's really important that everyone knows where we're at, and what we're doing, and where we're going.
Lauren: Sure. I think the other thing with communication is really documenting all that communication, too. So that when we're gone from a client's site, they understand those conversations that took place, what decisions came out of those, and you leave them with a little playbook, if you will, of what happened and who was participating in those conversations.
Lauren: Who do you work most closely with on your project? On a day-to-day basis, and who are some of the decision-makers on your engagements?
Sara: Usually, I work with everyone. In some way, I touch base with everyone. I can directly report to the CIO, the c-suite in general, our project leadership. I like to have a weekly meeting with them so they're up-to-date on what's going on, especially if it's a high-profile project. And then, of course, I work with the analysts, keeping them on-scope, on-time. And then I also work with the project practice managers at the affiliates and the hubs. So I'm really in touch with everyone, whether it be a registrar or a CIO.
Lauren: I think one of the biggest things to call out in the difference between affiliate projects and implementation projects. you really wear a ton of different hats and have to be able to communicate with all these different people and be able to identify who's the decision maker in all these groups as well.
Sara: I definitely feel the same way. And I like it. I like to be able to talk to everyone.
Lauren: What do you think is the biggest impact you've seen at a Connect or merger and acquisition project have on an organization?
Sara: I was at an organization where they acquired a clinic that had the only infertility specialty in the county, and actually the surrounding counties as well. And it was really cool to see this organization bring on the reproductive health, the women's health specialty. We actually met in a few patients that brought in their babies, to bring them and meet the nurses that actually helped them conceive, it was a really cool moment. It was really interesting to be a part of that.
Lauren: Yeah, I think that's one of the most rewarding parts about what we do, is really seeing how extending Epic to different sites and hospitals, clinics and hospitals, and reaching those patients that otherwise wouldn't have access to that type of care. It's really awesome to hear stories just like that.
Lauren: What are some ways that you feel most supported by Nordic in your position?
Sara: I definitely have a great engagement advisor. I'm able to speak with him bi-weekly if I have a frustration. I could even text him. He's really available to me and he's giving me a lot of tools from Nordic's toolkit to help me with my job. When I started on my most recent client, I started as a senior consultant, as an analyst, and apparently they liked me and they put me in a project management role. And it was my first project-management role, so I needed a lot of tools from Nordic and a lot of support from my engagement advisor, and I felt like he was there for me every step of the way, even if I just needed to vent.
Lauren: Yeah. That's so great to hear. One of the things that I like most about my position is being able to be the engagement advisor on our affiliate projects. So, we really enjoy working with not only our consultants, but kind of helping them through those conversations with the actual client and providing them our expertise from when we were consultants, and kind of the other information that we've gathered from other projects.
Sara: Yeah. It's great to have you guys there for us.
Lauren: Good to hear. So is there any other advice that you would like to offer to other project managers or other folks looking to get into the affiliate project management area?
Sara: Definitely. If you're new to the role, do your research. I think it's really important if you're a new project manager or if you are going to a new clinic or hospital to just do your research, your background information. And then once you get there, find the people who want to help you. There's always somebody onsite who has a lot of knowledge and really wants to help. So, find those people, identify them, and use them. In a good way though.
Lauren: That's great advice. Well, thank you so much, Sara, for chatting with us today. And good luck on the rest of your project.
Sara: Thank you.