Before becoming a consultant, I worked 12 years for a 14-hospital organization in Indiana.
I was fortunate to be a part of a place where leadership valued their employees' growth and set them up for success. Throughout the years, I became certified in several Epic applications, became a team lead, and dipped my toes into project management.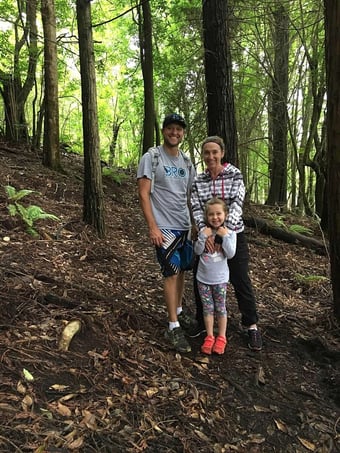 Let me take a step back. After college, my husband and I moved back home and started a life together. We bought a house, had a kid, were rooted, and everything was "perfect." But through the years, my husband became increasingly stir-crazy. He had lived in the same place his whole life and set on a mission to move somewhere – anywhere! – else. Once I stopped being scared of moving and started thinking about the possibility, I realized that there were so many exciting opportunities that awaited us if we were brave enough to jump. Once I (finally) got on board, we started our search for employment possibilities elsewhere.
Consulting had always intrigued me. The travel, meeting new people, helping companies grow, and the ability to focus on fewer specific tasks were all pieces that drew me in. Having worked for an organization which hired consultants, I knew from experience that while anyone can be a consultant, not everyone should be.
When I started researching different consulting firms, my goal was to work for one of the top five in the country. I wanted to be part of an elite group who was known for their quality and customer service, much like I had experienced on the customer side. I also looked for companies that shared my values and that I could imagine myself working for.
Nordic was my top pick. I had always heard great things about the organization, and after visiting the website and watching videos on "What Our Consultants Say," my decision was made. I wanted to work for Nordic. I filled out the online contact form, and not too long afterward, I received a much-anticipated email.
Now for the plot twist. Shortly after I started my search, my husband got a job offer in Maui, Hawaii. Not only was I looking to become a consultant – I also wanted to do so while living on an island in the middle of the Pacific Ocean. What company was going to want to work with me now?!
The answer: Nordic.
Let me start by saying that my Candidate Relations and Consulting Services teammates are absolute angels. They were helpful, responsive, and reassuring from the moment I first spoke to them. My husband and I knew that our decision to move to Maui limited the possibilities of me finding employment and prepared ourselves for the fact that I might have to find a different line of work.
At no point in time did my Candidate Relations (CR) teammates say, "No, we can't help you." They were realistic that it would be tough, but they were always hopeful, which gave me hope. I remember the day I got the call that Nordic wanted to work with me. My husband had moved to the island, and I was on my way back to an empty house after dropping off boxes to our storage unit. I was moving far away from family, friends and from a job I had held for a long time. My confidence was at its lowest point.
The fact that Nordic was willing to work with me, knowing full well I was moving to a remote island, was incredible. I had to pull over because I was crying happy tears.
After we moved to the island, my CR team kept in touch. If they had a question, they would reach out, and so would I. A few months after settling in, I was fortunate to land a contract position, and I then hit the ultimate jackpot by venturing over to the Managed Services division, where I currently work.
I just celebrated my one-year anniversary with Nordic, and I couldn't be happier. My husband is no longer stir-crazy, our seven-year-old is learning Hawaiian studies in school and my work-life balance includes exploring the island we now call home and hanging out with honu (turtles). We are ridiculously blessed in life!
The bottom line is that Nordic truly values their people. They aren't just loyal when the circumstances are ideal or when it's a "quick win" for them. They truly want to build a team of qualified people who work and live by their maxims.
Of anyone, I am a prime example of their loyalty. I was so fearful that putting myself in that situation by moving so far away would make me unemployable. I knew I was qualified and would continue to be successful if given the opportunity; I just needed a company that would see the same thing. Luckily for me, I found them. And the rest is history.