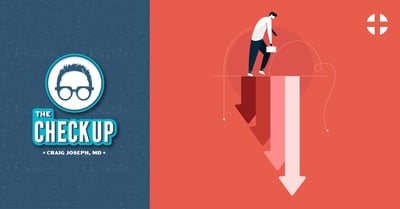 In the Oct. 27, 2020 edition of the Journal of the American Medical Association (JAMA), I read a fascinating viewpoint article titled "De-adopting Low-Value Care: Evidence, Eminence, and Economics." The authors cite evidence that common medical practices that offer little or no value with respect to patient health account for a staggering $67 billion in annual spending. If that doesn't stop you in your tracks, I don't know what will. Examples of these low-value practices include cervical cancer screening for women older than 65 years, routine screening for vitamin D deficiency in average-risk individuals, and arthroscopic surgery for knee osteoarthritis. Research has shown that performing these tests or surgeries doesn't help the patient, yet physicians continue to order and perform them despite the evidence.
There are many reasons to stop performing procedures that don't achieve the desired outcome. Obviously, money is on that list. In the United States, the biggest insurance company is the federal government (hello, CMS!). When Medicare or Medicaid pays for a service that offers no benefit, we all lose. Beyond finances, all procedures come with unanticipated effects. Imagine the knee that becomes infected after a surgery or the lab test that comes back slightly out-of-range and subsequently leads to a litany of other tests. There are many reasons to stop performing low-value procedures.
But how can physicians be convinced to stop doing what they may have been trained to do decades ago? The JAMA authors cite three complementary options. First, document the evidence and wave it like a flag for all to see. When disinterested third parties do research and come to the conclusion that an operation actually doesn't help most patients, and when that study is confirmed by others, most science-minded professionals take notice. Second, note the evidence and raise it up by eminence. When professional societies (e.g., American Board of Internal Medicine) or prominent medical schools call attention to research and new guidelines, physicians listen. Third, apply the hammer of economics. When doctors and hospitals don't get paid (or don't get paid well) for certain services, said services quickly become much less frequent. A hit to the pocketbook will always get attention.
After reading this article, I tried to apply the authors' suggestions to some electronic health record (EHR) practices that shouldn't be recommended anymore. It turned out to be a bit trickier than I had first thought, but it wasn't impossible. In the early days of clinical informatics (10 years ago?), we had more opinions than evidence. Today, academic research abounds in JAMIA, BMC Medical Informatics and Decision Making, and even in traditional journals like the New England Journal of Medicine. Hence, we have evidence. We have eminent groups that can help get the word out such as KLAS, the Office of the National Coordinator (ONC) for Health Information Technology, and the American Medical Association. We even seem to have some economic levers, albeit indirect ones. ONC certifies healthcare IT software to ensure it has basic functionality, and CMS administers the Promoting Interoperability Programs to incentivize healthcare providers to use their EHRs in a meaningful way (did you see what I did there?).
Here are a few EHR practices that I'd like to see de-adopted:
Hospitals and health systems claiming that they don't understand

the need for

or can't afford

physician builder

programs

.

When practicing clinicians are given extra training on how to do basic build on the "dark side" of their EHR and dedicated time to do that build, everyone benefits. In fact, the

KLAS Arch Collaborative

has shown that specialists who have a physician builder among their ranks are statistically more likely to be satisfied with their electronic health record.

Usability principles not being incorporated into standard EHR build and configuration

. Many still think that it's only the vendor who needs to understand usability. This is far from the truth. Most modern EHRs are infinitely configurable by the analyst team from the hospital or health system.

It's these folks who often put the pieces together that the doctors and nurses see.

Implementation and configuration processes

must leverage usability principles

to make the best use of the software.

EHR vendors or their customers who don't make it easy to leverage the patient as a member of the care team

. In the olden days (three years ago?), physicians were often told

that

they needed to recopy certain data that were already

documente

d in the chart. That guidance is in our past.

Now, we should be doing all we can to remove

administrative burdens

and make it easy for the patients themselves to

contribute to the note and the medical record

via the patient portal.
Do you have healthcare IT or EHR practices you'd like to see de-adopted? Tweet at me @CraigJoseph and tell me about them. #EHRdeAdopt