First celebrated in 1911, International Women's Day is recognized throughout the world on March 8 as a day to celebrate women. In its early years, the day was marked by political demonstrations demanding women's right to vote and to hold public office. In the 1970s and 1980s, women's groups were joined by other organizations calling for equal pay, equal economic opportunities, equal legal rights, and the prevention of violence against women.
The United Nations began celebrating International Women's Day in 1975, and in 1977 the U.N. General Assembly invited member states to proclaim March 8 as the U.N. Day for Women's Rights and World Peace. Over the last 15 years, the day has been increasingly used to inspire thoughtful discourse online and in social media concerning women's rights, with even Beyonce throwing her hat into the ring with a spirited video.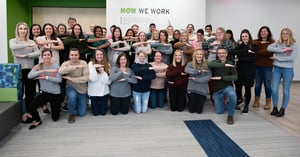 The theme for this year's International Women's Day is #EachforEqual, meaning that we as individuals are all responsible for our own thoughts and actions. We can actively choose to challenge stereotypes, fight bias, broaden perspectives, improve situations, and celebrate women's achievements. Collectively, we can help create a world that is gender equal.
Gender equality is not just a women's issue, it's a business issue, especially in the world of healthcare. Gender equality is essential for communities and businesses to thrive. Since 1911, much progress has been made. The Pew Research Center recently released a report detailing that women have narrowed the wage gap from 33 cents to the dollar in 1980 to 15 cents in 2018. This was mainly due to women making large strides in attaining higher education and by meeting the needs of today's labor force.
Today, more women are graduating from college than men. In fact, the Association of American Medical Colleges has reported that for the first time in history, women make up the majority of enrolled medical students. Though women are achieving higher status roles than they once did, 60% of women still have never negotiated pay, ultimately limiting their future earning potential.
You may be wondering what you or your organization can do to level out the playing field for women. Here are a few ideas to get you started:
1. Train your managers
Thoughtful change comes from the top down, so making sure that all managers are able to recognize gender discrimination is a great first step. They need to be taught how to identify discrimination, how to deal with it when it takes place, and how to prevent it in the future. By taking the lead on gender discrimination, managers are setting the example for the rest of the employees.
2. Make work-life balance a priority
Being a working mother often means that your career potential is limited, taking penalties in pay for taking time off to care for children. As an employer, you can be supportive of working mothers by offering childcare or childcare subsidies, having a flexible work environment, and creating a culture that celebrates working mothers rather than punishing them. And don't sugarcoat the work-life balance in the interview process. By being open and direct, you'll limit the amount of frustration and eventual turnover that could arise.
3. Remove the gender pay gap, and be transparent about it
Being secretive about pay has become the norm in society. Unfortunately, the gender pay gap will continue to be pervasive unless employers start to be more transparent with employees' pay. Instead of asking candidates what they make at their previous position, create a pay bracket that outlines the salary for a particular role, no matter what salary they made previously. By creating a pay bracket, any gender bias will be eliminated. Along with that, men and women should be equally treated in recruitment, training, hiring, and promotions.
4. Make mentors available to all
Having a mentor guide you through challenges you encounter in the workplace can be an invaluable experience and should be something that is offered to all, not just women. Since senior-level women are often spread too thin, it's OK to shy away from same-gender matches. Offering mentoring programs increases career advancement opportunities for women that they wouldn't have otherwise.
5. Make sure women have a seat at the table
It's impossible to achieve gender equality if women are excluded from the decision-making process. Focus on hiring more senior-level women and promoting qualified women from within. Make sure their voices are truly heard, and you'll be one step closer to a gender-equal workplace.
Here at Nordic, we are doing our part to have a gender-equal workplace by creating a flexible work environment, having a variety of mentorship programs, and by making sure that women have a seat at the table and are heard. We're proud that our overall workforce is 52% women, 57% of our management roles are filled by women, and 54% of those in senior leadership are women, which is above industry standard. This International Women's Day, we recognize that there is always more work to be done to make Nordic an equitable workplace for all.
If you'd like to learn more about how you can make a difference, be happy, and grow your career, take a look at our current openings.