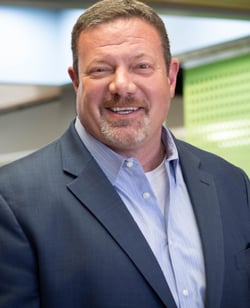 I have worked in health for all of my career. Our sector has always faced challenges, with organizations literally fighting to save lives while juggling the many other necessities of keeping an enterprise running and growing. The past year has been extraordinarily difficult, in ways too numerous to list here. I can say that I have been proud to support our clients, all of whom have struggled with overwhelming problems during the last 12 months – and kept going.
Through the heroic efforts of many, and with the arrival of spring, there are solid reasons to be hopeful once again. In many parts of the world, the number of new cases and hospitalization rates have begun to drop, and the percentage of people vaccinated has started to inch up. As the pressure has started to ease ever so slightly, many are thinking about stabilizing and building on the innovations that were driven by necessity.
Unprecedented, but anticipated
Industry disruption has been a buzzword for years. While healthcare has lagged the transformation other sectors have undergone, everyone assumed it was our turn next. But the rapid transformation expected was not from a particular new entrant or piece of technology, as has been the case elsewhere. Our turn came in the form of a global pandemic, turning necessity into the driver of adoption.
Many of the technologies introduced to fulfill the needs of operating during a pandemic have existed in a workable form for years. While uptake has been historically slow in healthcare, accepted wisdom has always been that most would be introduced gradually (and probably in niche use cases first). Instead, we saw innovation in every part of the care continuum. Virtual visits became the norm. Many essential treatments (and monitoring) moved to the home. Barriers to reimbursement for new types of care delivery in the U.S. were lifted. The friction caused by the lack of professional licensing reciprocity was eased. In short, healthcare was transformed for the better.
Around the world, executives I've spoken with are turning their thoughts to rebuilding a strong enterprise and thinking about what comes next. There are a few points that stand out to me:
Healthcare organizations will need to build on recent investments and innovations. Sector knowledge and experience (as well as the dedication of front-line care providers and staff) matter, but new entrants are still gaining ground.
While maturity across the globe varies, healthcare is becoming a digital enterprise. Technology is a massive enabler of health and underpins everything we do. And we are still on the shallow end of the adoption curve.
Born of necessity, more convenient care has been widely adopted and widely accepted by patients. Consumer experience, a dominant factor in every other industry, will play an even greater role in determining who will succeed.
Looking forward, Nordic's global family of companies are keeping these ideas in mind as we focus on success for our clients. That includes partnering to create a differentiated strategic vision and improved clinical, operational, and economic functioning. We plan to work together with our clients to build capability in three pillars:
Optimum performance
Healthcare organizations have always operated under enormous pressure – lives are literally on the line. Balancing costs while aiming for excellence in delivery has always been part of that equation. The shift to value, and the reimbursements that come with it, has only highlighted the importance of operational efficiency.
COVID-19 has exacerbated the already complex management of costs, regulation and reimbursement, physical plant and infrastructure, supply chain and inventory, and clinical care models. The insights that will come from combining clinical and operational data will change the way health is delivered for the better – forever. Moreover, bringing these data together is an essential part of keeping the business of today going while freeing up resources to invest in the business of tomorrow.
Healthier data, healthier people
Better data means better insights — and the opportunity to deliver improved, and lifelong, health. The technical problem of combining and harmonizing data is being solved, creating opportunities for insights that support new kinds of services. This necessitates the carefully planned use of automation and AI and the right analytics that can inform, augment, and support the care team and the health consumer.
A host of new entrants are building businesses around convenience and data centralization: retail is betting on their knowledge of, and relationships with, consumers; tech firms and consumer electronics are looking to use the data infrastructure and analytic expertise to understand health behaviors; startups are using the massive infusions of cash from investors to move from niche problem solvers to major players. All are focused on better experience, increased engagement, and higher quality analytics and insights. At some point, one will figure out how to deliver health at scale and the rest will follow.
Care delivery today is radically different from an exclusively face-to-face, one-on-one approach. It will continue to shift in focus, from fixing acute problems with a nod toward prevention to a lifelong emphasis on staying well. Healthcare has historically lagged other sectors in experience, interoperability, security, and the ability to generate useful and actionable insights; but it knows care delivery ꟷ and people. To compete, healthcare organizations must be ready for a more comprehensive approach to health and will need to incorporate more (and better) information than what clinicians use today. This includes a cyber security strategy and data use policies that keep the enterprise safe and elicit consumer trust.
Decentralized care
Healthcare is moving to where people are geographically and in terms of preference. COVID-19 has accelerated the shift away from having many high-volume, high-cost centers of care towards lower-cost, more convenient facilities as well as to the home. Telemedicine, which went from slow adoption to a raging torrent, is only the beginning. From at-home chemotherapy treatments and virtual clinical trials, to monitoring patients convalescing or managing an acute illness outside of a medical setting, healthcare is moving to the point of demand.
Decentralizing care provides the opportunity to offer consumers a multi-channel and multi-location experience, improving engagement through convenience. Retail, pop-up clinics, and pharmacies which have quickly become a central part of the vaccine distribution strategy in the U.S. and U.K. are building and partnering to create health hubs that can offer a less expensive and more convenient suite of health goods and services. Healthcare organizations have the opportunity to rethink the size and location of their physical footprint to ensure that it aligns with a more distributed model of care.
Enormous gains have been made over the last 12 months. Now is the time to build on the innovations that are working and use them to build out new care pathways. For the things that were done quickly out of necessity, it is time to step back and align them to the overall strategy (including the data strategy).
I am excited and optimistic about where we will go together over the course of the next year. Getting to where we are today has been difficult – and there is still more work to do. Those of us at the Nordic family of companies are energized by the strength and determination we see in our clients to best serve their patients. And we remain ready to roll up our sleeves and partner with you to achieve your goals. In the meantime, be safe and be well.