If you have the chance to walk around Nordic's home office in Madison and stumble upon our marketing team, you'll notice an "Everyday's a Holiday" calendar hanging on our wall. Most mornings, the team gathers around the calendar to see what we plan to celebrate. When looking ahead to March, I noticed that "International Women's Day" (IWD) wasn't listed. I channeled my inner Sheryl Sandberg, asked why "Proof Reading Day" took precedence, and sought to understand more about IWD.
Tackling women's issues is a big job. So, IWD recommends that we (men and women alike) focus on gender parity within our own spheres of influence. This year's campaign, #BeBoldForChange, encourages us to find ways to cultivate an inclusive environment, challenge bias, promote gender-balanced leadership, and value the contributions of men and women equally in our day-to-day lives. (Photo below: Just some of our amazing Nordic women.)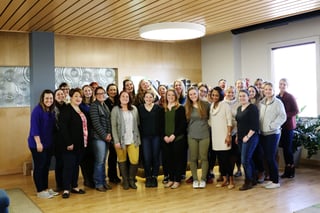 As women in a male-dominated field, there are small and large actions that will create an impact on our company's cultures, our professional development, and personal growth:
Start the conversation
One of the hardest parts about igniting change is starting the conversation. When you or someone you know is impacted by gender bias, respectfully seek to understand and clarify, then provide discourse. Often, gender biases are subconscious. Once the conversation begins, an open dialogue can occur.
Find a mentor and mentee
Ladies, we need each other! Find a woman you know and trust, meet regularly, and create a safe space for a mutually beneficial discussion. Then, pay it forward to a mentee. Within the world of Healthcare IT, #healthITchicks is a great place to start.
Talk to your supervisor
Work-life balance is always a juggling act, especially for working mothers. Do you want to lead? Have a family? Both? Be open and direct with your supervisor. The best ones will help create a growth path for your personal and professional aspirations. If they don't, revisit the first item on this list.
Listen
Make sure other women are heard. If you hear a colleague or friend being interrupted, reframe the conversation circling back to her idea. The best ideas can be overlooked because others aren't listening.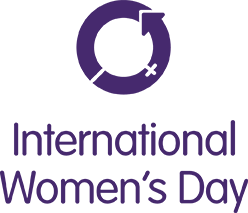 As leaders (men, we need your support too), we can promote gender equity in the workplace by not waiting for others to speak up. Each of us can be a catalyst for change:
Differentiate between likeability and leadership
Women leaders are often referred to as "bossy," while males are decisive. According to Kieran Snyder, 66 percent of women received negative feedback on their personal style such as, "You can sometimes be abrasive," compared to less than one percent of men. When judging someone's character, remove gender bias and focus on quality of leadership.
Hire and promote women in leadership roles
If you know a woman who would be a great fit for your organization, refer her. If she's internal, send an email to her supervisor. Call her out. Let others know the great work she is doing. Advocate for gender-balanced hiring committees. We've all heard, "We went with the most qualified candidate pool." When the candidate pool isn't balanced, recommend expanding the search.
Be an advocate
According to the HIMSS "Gender-Based IT Pay Inequity & Impact of the Clinical IT Executive in the Health Sector" report, Overall, males have a higher average compensation ($126,000) than females ($101,000). Men, we need you. Hire and promote women. While we don't need you to speak on our behalf, we do need you to ensure our voices are heard. Be an advocate for female leadership and fair compensation.
Listen
Don't interrupt. Provide fair and equitable feedback. Show that men and women's contributions are valued equally. If you're unsure if you understand the concepts, repeat the information back and seek clarity. This builds rapport and ensures everyone's opinions are heard.
It sounds like I'm asking a lot of you, I know. But unless we change the rate we're progressing, IWD predicts that the gender gap won't close entirely until 2186. I don't know about you, but I hope we can crush that goal, together.