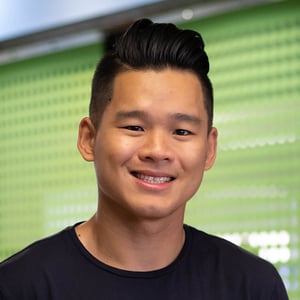 Navigating a career in healthcare after Epic can seem daunting. You'd like to work in a challenging and collaborative environment while using the knowledge you gained to serve patients but may not be interested in a role that requires weekly travel. Thankfully, opportunities exist within Nordic's Managed Services that may offer the perfect mix of lifestyle, challenge, and team camaraderie. We recently sat down with Managed Services Senior Analyst Daniel Zhou to talk about his experiences and how Managed Services has been the right fit both professionally and personally. Daniel shares insight on what his role consists of and the overall culture of Nordic and its Managed Services team.
Prior to joining Nordic, Daniel had two years of Epic experience as an implementation project manager on the Claims team, traveling frequently to client sites, as well as project manager roles with other organizations. Daniel joined Nordic's Managed Services team in September of 2018.
Before coming to Nordic, what type of role were you looking for?
Daniel: Having previously spent two years traveling across the country and consistently working long weeks, I knew that I was not interested in being a typical traveling consultant. I really enjoyed working in health IT, though, and was also considering moving away from Madison. Knowing these things, I was hoping to find a great fit in a great culture.
What interested you in the Managed Services Senior Analyst role?
Daniel: I had always thought of Nordic as a typical consulting firm, where there's weekly travel and a 40-45-hour work week jammed into four days. When I dug deeper into the senior analyst role, I realized that travel was only 10-15 percent of the time. Having the ability to live somewhere other than Madison was also a welcome surprise. Sure, at times there could be some longer weeks just based on go-lives and other client needs, but a 45-hour work week was more typical. What I was most impressed with was the culture and the ability to be a part of a collaborative environment filled with amazing people who were all working hard towards a shared vision. The cherry on top was knowing that with a growing business comes lots of opportunities to not only expand my skill set, but to explore multiple career paths.
What does your role consist of? What does your day-to-day look like?
Daniel: With an evolving business, every day looks a little different. I think the perception is that post-live support work is boring, but I have found it to be anything but, with lots of new challenges each day. Currently on the HB team I'm working with one client who sends us tickets of various priorities. Sometimes the client will dictate an issue that needs to get looked at immediately, as it may have a high impact on patient health, safety, or revenue. There are also longer-term projects that the client sees as more of a 'nice-to-have,' which take more collaboration and planning to execute. From there we work to fix the issue, test it, make sure the customer is happy with the solution, and then push it live. Along the way I work with my teammates to problem solve or jump in and help them out with their issues. It's a very rewarding position where I get to help clients and deliver meaningful results.
What is your growth path within Managed Services?
Daniel: As a senior analyst, I came in with past Epic experience, but there's still a lot I would like to learn both within my application and outside of it. My growth path is laid out with clear benchmarks I need to hit to become a senior consultant. Even though Managed Services is part of a larger company, it definitely has a start-up feeling, where there's lots of change and many new things to discover or establish each day. If I had interest in a management role or a field that interacts more with clients, I have the opportunity to pursue that. Being a part of Nordic also presents opportunities for growth in other areas of the company as well.
What's the work-life balance in Managed Services like?
Daniel: The work-life balance is much more balanced than in my previous positions because I don't have to travel as frequently. I've worked to find the right schedule with my client so that I can address what I need to when they need it. There is just that feeling of being able to take a breath when you need to, of being able to get your work done during the day and then being able to go home and relax. It's definitely good for me both mentally and physically.
How does your team work together?
Daniel: Due to the growth of Managed Services, our HB team is small but starting to expand, which is exciting. We meet weekly not only to talk about any issues that may be going on with our clients, but to keep up with what's going on in each other's lives as well. It's a very open environment. I'm always comfortable reaching out for help with an issue, and I'm always happy to jump in and help out if anyone needs support as well. We're always there for each other if anyone needs anything.
Other than your day-to-day work, are there initiatives within Nordic that you've been able to take part in?
Daniel: Another great thing about working at Nordic is that there are lots of internal initiatives to get involved with. I've been working with team members to gather customer success stories to provide materials for the marketing team. I was also heavily involved with the internal awards, the Nordies, for the entire Managed Services team. This included not only coming up with each individual award, but also getting those physically together and shipping them out to our remote teammates. It was a lot of work, but it was very gratifying to put something fun together for our team. I also have been able to help organize team events like potlucks and holiday get-togethers. I really enjoy being able to contribute to the wonderful culture we have here at Nordic and in Managed Services.