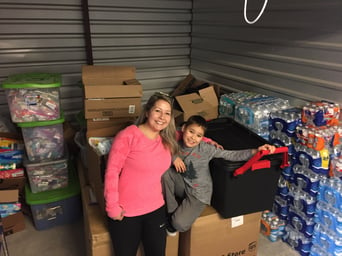 At this time of year, especially if you live somewhere cold, it's hard not to think about the population of people experiencing homelessness in your city. Particularly when the nights are cold and dark, a little extra help can go a long way in helping vulnerable people stay warm, find shelter, or eat a nutritious meal.
Nordic Senior Consultant Allison Cano has been working with the advocacy group Jake's Heart for three years, helping eight-year-old Jake Garrett-McCann and his team deliver much-needed supplies and support to the homeless community in Texas.
We sat down with Allison and Jake's mother Kimber Garrett to discuss the importance of Jake's mission, how Jake's Heart has evolved, and how Allison leverages her consulting role to spread awareness among her peers. If you like Allison's story, please follow Jake's Heart on Facebook for future updates.

Q. How did Jake's Heart get started?
Kimber Garrett [Jake's mother]: My wife, Jake, and I took a trip to Austin, Texas when Jake was about three years old. We had a beautiful hotel and a warm shower and a wonderful breakfast, and we decided to walk to downtown Austin to get some exercise. On the way, we passed a lot of homeless individuals on the street, and a lot of them didn't have any shoes and socks and were asking for money.
Jake was confused by this, so my wife and I were trying to explain to him what a homeless individual was all about. A few days later, Jake told me that he couldn't get it out of his mind. He said, "We really need to help these people." I asked him how he wanted to help, and he said, "That man didn't have any shoes or socks, so we have to get him some shoes and socks."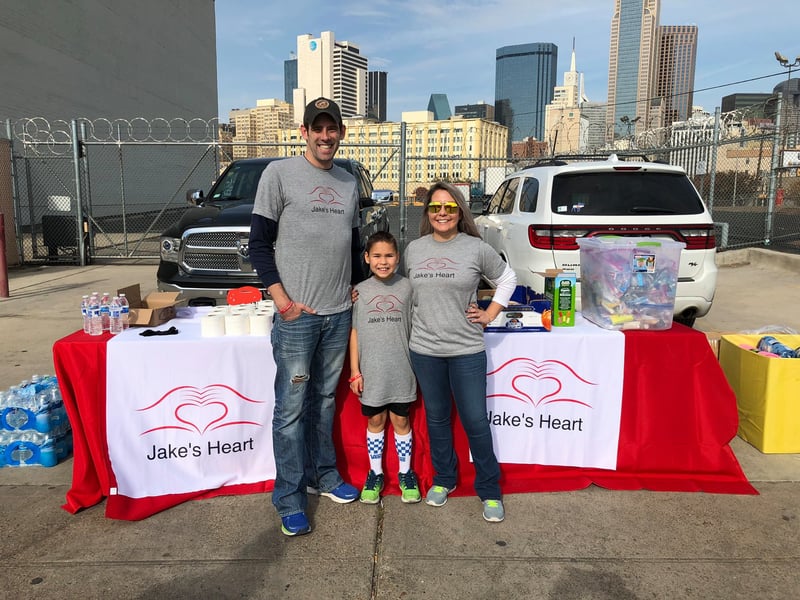 Nordic Senior Consultant Allison Cano and her fiance stand with Jake in front of their supplies
We started off small by researching the main item that would be most helpful for us to provide to homeless people. The number one item was socks, so we started a sock drive and collected about 2,200 pairs of socks. The back of our pickup truck was overflowing.
When we got downtown, we introduced ourselves to the homeless community, and they were so excited to see Jake and hear him say somebody loves them and give them a pair of socks. They wanted hugs and to tell him how amazing he was.
Q. How did you get involved with Jake's Heart, Allison?
Allison: It's actually kind of a funny story. My fiance and I have been doing this with Kimber and Jake and Jen for about three years now. There was a Facebook post on the neighborhood page I follow, and Kimber and Jen were selling their Keurig and donating the proceeds to the homeless community.
I thought, "I kind of want a Keurig, so I'll walk down there and see what this is about." We started chatting, and that's how I got involved. It was a very small operation for those couple of years – just the five of us on a Friday night around the kitchen table putting bags together. As I became closer to their family, it became imprinted on me how important this is and how special Jake is.
I wanted to help be that ambassador for his vision. I would help spread the message to other consultants on my project, and I would collect hotel toiletries when I traveled to donate to the cause. I was able to build relationships with different consultants around the country and spread awareness of what we're doing in that space. I feel very blessed to be able to do that and show other consultants what a cool kid Jake is.
Q. How has Jake's Heart evolved since it started?
Kimber: As Jake matures, his idea for Jake's Heart matures as well. At the age of three, he was collecting socks and snacks, and now that he's eight, he wants to run this as a 501(c)(3) and open a housing facility for men, women, and children that can educate them and get them long-term help. So we started an official non-profit as Jake's Heart and formalized things over the last several months.
Allison: We're working right on a platform for donations, and Jake and his moms [just went] to New York City to do a taping on the Harry Connick Jr. show. With the exposure we've been getting through media, we'd like to make regular trips to New York City to give donations and expand our reach.
Q. Could you describe the full scope of what Jake's Heart does at this point?
Kimber: Jake has a group of helpers who assist him in his work, and what they do is collect supplies and create an assembly line to put the supplies in hygiene bag – either a Ziploc bag or a backpack. We package and sort those supplies and deliver them to homeless people around the city.
Jake also helps children in hospitals because he understands how lonely they can feel during their illness. He brings them toys and crafts to play with to keep their minds busy and happy. He has done a meet and greet with organizations to collect toys for children and supplies for the homeless, and we're going to work with the local Starbucks to pick up food that they won't be selling.
Q. How have you seen Jake inspiring other kids?
Kimber: It's really interesting to see the effect he has on other children. If he's playing Xbox with another kid, he'll take a minute to say, "It's pretty amazing that you have one of these because most people don't." We see kids all the time who think, "This is so cool and I want to help." A lot of kids are not getting enough education at home about homelessness and the fact that this is happening in our own backyard. It's great to have an advocate like Jake telling his peers about it and bringing them on board.
Allison: It's really cool to see him talk to his peers and get them excited to help, even if they don't fully understand the problem. Just getting people excited enough to want to help is the goal.
Q. What do you think Jake would tell other people about what they should do to help others?
Kimber: Last night he made a really profound statement. He said, "Just do what's in your heart." That encompasses everything about who Jake is, and it's pretty amazing that he can understand that and communicate it. He would say to anyone who wants to help: If it makes you feel good, and it makes you smile, then I want you on board, and I want you to help me carry forward this mission.
Allison: He said, "Just do what's in your heart" last night and we all just stopped and said, "Wow. It's amazing that a little eight-year-old has that kind of wisdom." Once you have that pay-it-forward mentality about helping people, the rest comes really naturally.
Q. Any final thoughts?
Kimber: Jake's ultimate goal is to make sure that homeless individuals can get out of homelessness, live on their own, and have a job. The shelter he wants to build will have classrooms and educational courses, and we're hoping to have courses in coding and programming. Ultimately, we would love to see some of the people we help end up in positions like Allison, as healthcare consultants. That would be a fantastic result.