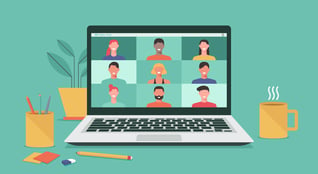 I'm not a huge fan of virtual conferences. At most in-person conferences, I virtually (see what I did there?) always learn more from the random person sitting next to me than I do from the official speakers on the agenda. That said, as Tony Fauci keeps reminding me, there's a worldwide pandemic going on, so for the time being, it's virtual conferences for me!
The Office of the National Coordinator for Health IT (ONC) 2021 Annual Meeting was held last week, completely virtually. There were some technical problems, to be sure, but overall, I thought it was nicely done. The opening session featured the National Coordinator himself, Micky Tripathi, Ph.D., MPP. While he was tapped into the position by the new administration and hasn't been in place very long, he has an excellent pedigree and is well-positioned to do a great job.
I thought he was right on when he said, "The good news is that our federal partners are seeing the benefits of interoperable EHRs. The bad news? Our federal partners are seeing the benefits of interoperable EHRs." The Cures Act and other HHS/CMS regulations will continue to come at us in healthcare as we've unfortunately been unable to get our own house in order. Uncle Sam will continue to push us to "do the right thing" via legislation. I'd prefer to meaningfully use electronic health records (EHRs) without the federal Meaningful Use program telling me exactly what that means, but if an industry can't agree on basic underpinnings, we have to expect that others (aka payers and regulators) will do it for us.
Dr. Tripathi reported that he is going to continue to push hard for APIs (application programming interfaces). He believes that APIs bring "richer interoperability patterns and enhanced usability." With regard to interoperability, he emphasized that bi-directional data flow will be a game changer. As we're able to not only read information from other sources, but also to write or respond to it, we'll have real exchange of information. Almost like a conversation between two equals as opposed to gaining information from the all-knowing prophet on the hill.
One speaker who I felt was speaking to me directly was Dr. Peter Basch from MedStar Health. He talked about physician administrative burden reduction, a topic close to my heart. Specifically, he discussed the retooled evaluation and management (E/M) CPT codes for ambulatory visits that went live on January 1. He said, "It is a real weight off our shoulders to have CMS say to us that they are no longer in the business of telling clinicians how to document." While I'm not sure that's exactly what CMS said, it's music to my ears, nonetheless. (Check out Nordic's and my take on E/M reform, including three webinars with AMA expert Dr. Barbara Levy.)
In discussion with Drs. Basch, Jackie Gerhart (from the University of Wisconsin and Epic), and Yaa Kumah-Crystal (from Vanderbilt University Medical Center), it was reinforced that physicians will have to unlearn all the myths and realities that have been established around E/M rules and documentation. While I wish that weren't true, I know it's accurate. Even though the days of checking boxes and writing words that won't help the patient or the care team should be behind us, a whole industry long ago emerged to reinforce the old rules. It will take a lot more than an email or one-pager to convince the preponderance of doctors that they can write a short, fact-filled progress note and not end up on the bad physician list in HIM.
I appreciated Dr. Anne Zink's perspective as a practicing emergency medicine physician and the chief medical officer of the state of Alaska. She somewhat provocatively said that "emergency departments are the place where all public health policy comes to fail." The high-acuity and high-throughput part of the healthcare system (aka the emergency department or ED) can test all assumptions about how we exchange information in a meaningful way. Is the medication list up-to-date and accurate? Did the patient have a CT study done recently and if so, can the physician see the images themselves, not just the radiologist's interpretation? How will the emergency physician's interpretation and summary of the care make it back to the patient's primary care provider, or will it? All of these workflows and questions are put to the test in the ED.
I give the ONC 2021 Annual Meeting two thumbs up! It was a good mix of academic, clinical, and informatics folks. I look forward to attending next year's conference in person in Washington, DC. For this to happen, though, I need all you readers out there to get vaccinated. If you haven't already, let's get on that!