Decreasing cost while increasing care quality and revenue are goals of all healthcare organizations. As competition among providers continues to grow, you're challenged with navigating how to make data-driven decisions to improve the health of your patients and business.
In this video (or transcript below), Nordic Manager of Data and Analytics Tim Grilley discusses the costs, challenges, and opportunities in taking a data-driven approach.
Interested in learning more about our solutions? We'd love to hear from you.
Transcript
Hi. I'm Tim Grilley from Nordic. In the past 10 years, we've been laying a $10 billion infrastructure of getting data into high-quality electronic health records. There's increasing incentive to be able to pull some of that data out and use it to make data-driven decisions. The government has big incentive programs like Meaningful Use and ACO. The private sector has similar programs with shared savings and a lot of organizations on their own HMO. Lastly, organizations are finding themselves in an increasingly competitive marketplace where they just need to make data-driven decisions, drive down cost, and increase revenue and the quality of care.
However, it's hard to make data-driven decisions. It takes about a year and $100,000 to train a new analyst. Because of this, we have three great solutions for you.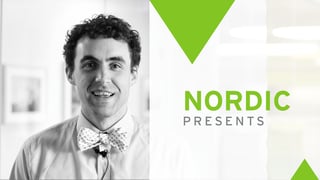 First, we have Advisory Solutions where we look at what you're doing right now and think about all the successes we've seen at other customers and apply them to your use case. Additionally, we have agile analytics projects that help you visualize your organization in real time and make data-driven decisions the next day, instead of making data-driven decisions three months in the future. Lastly, we have a managed reporting service that helps you with that FTE bind that you find yourself in from time to time inside of your analytics departments. We manage the reporting. You just identify the need.

If you have any questions about any of these, please contact us at Nordic.