Do you ever go to conferences, take a few notes, leave inspired and then promptly go back to your day-to-day grind, forgetting everything that inspired you?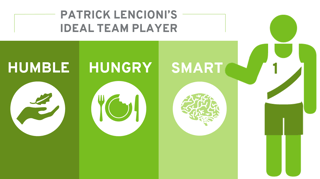 Some research (by whom I can't recall) suggests that if you don't put things into action within three days of the event, you'll be unlikely to incorporate those changes into your work/life.
I recently had the chance to attend a leadership conference with a number of A-list speakers. In the spirit of Nordic's maxim "Grow. Teach." I want to offer a few of my notes, and potentially a few steps you might take to benefit from what these speakers had to say.
One of my favorite speakers is Patrick Lencioni. He's a well-respected author, speaker, and management consultant. He talked about his most recent book, The Ideal Team Player. What makes his concepts here especially helpful is that he's boiled down all sorts of characteristics into three main virtues. These virtues are Humble, Hungry, and Smart. The "Smart" isn't what you might think it is.
This SlideShare gives you some of my notes on what each of those mean and the dangers to a team when team members have an imbalance of those virtues. Of course, these are just my notes – for the real deal, grab the book.