MADISON, Wis. – Customers rated Nordic, a global healthcare consulting firm, the highest among expansive firms for its application managed services (AMS) and help desk services in the latest KLAS report with a rating of 93.9.
With years of experience in providing expert AMS, Nordic expanded to provide a service desk during the COVID-19 pandemic to provide much-needed assistance to its clients. Citing a help desk rollout that was "fast and well received" (p. 2), its clients consider Nordic to be a wealth of knowledge and a "true partner that excels at execution" (p. 22).
The events of 2020 brought with it unique challenges in terms of communication. With Nordic's inherent understanding of the ins and outs of a remote work environment, clients commended Nordic for its ability to "communicate with them and their users in ways that keep all stakeholders connected and enable quick resolutions and a smooth workflow" (p. 2). A director said, "The thing that makes [them] stand out the most is their ability to navigate conversations with our staff members. We ask for specific things to be done, and [they are] good at asking the right questions to identify what we are trying to accomplish instead of just doing what we think we need" (p. 22).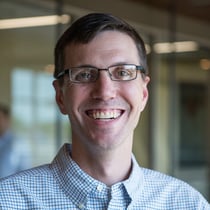 Frequently praising Nordic's flexible AMS model and ability to scale up and down with ease, its clients also appreciated Nordic's ability to share best practices and lessons learned in an effective manner, with the end product "being better than what we thought we wanted in the first place" (p.22).
"The COVID-19 pandemic brought many unexpected challenges to the healthcare industry as a whole," said Nordic Senior Vice President of Managed Services Ian Mamminga. "I'm proud that our team is being recognized for their expertise and dedication in helping healthcare organizations provide excellent support, ultimately improving the lives of patients and their families."