For the second year in a row, the Wisconsin State Journal has named Nordic Consulting one of the Top Workplaces in the Madison area. Nordic ranks No. 7 in the midsize category for companies between 100-299 Madison-area employees. Nordic also ranked No. 7 on last year's list.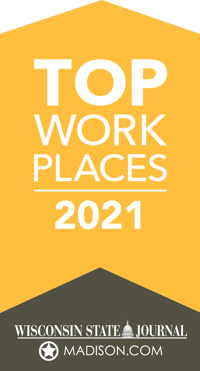 Throughout 2020, Nordic and its teammates continued to support healthcare organizations on the front lines of the COVID-19 pandemic with advisory consulting, health IT staffing, and managed services solutions to help improve their business and patient outcomes. From helping to set up EHR accessibility and functionality in field hospitals to standing up telehealth solutions to reach homebound patients and physicians, Nordic rose to the many challenges that the pandemic wrought.

With its people- and relationship-oriented mindset, Nordic focused on providing expert solutions to its healthcare clients as well as ensuring that its employees felt supported during the pandemic – both physically and mentally. All of Nordic's consultants and corporate team members had access to personalized coaching and counseling, mental health resources, and an employee assistance program.

"At Nordic, this past year required us to rethink how we foster a productive work culture and support realistic work-life integration, so that our teams could continue to deliver outstanding results for our clients even amidst disrupted schedules and improvised at-home workspaces," EVP of Staffing Services Katherine Sager said. "During the pandemic, Nordic continued to lean on its values, which we call maxims, and each other to cultivate a workplace that's engaging and inclusive despite our physical separation from each other. It's humbling to know that, despite the adversity we all faced in 2020, our employees continue to feel that Nordic offers them great opportunities to grow their careers, make a difference, and be happy."

The State Journal's complete list of Top Workplaces was compiled from employee surveys in 2020 and includes 45 employers across Dane, Sauk, and Columbia counties. It's divided into three categories based on total number of Madison-area employees. The list aims to recognize organizations that employees identify as having a supportive culture, a shared mission, a dedication to work-life balance, and stand-out benefits.

Nordic is one of the largest employers in Dane County with roughly a quarter of its more than 1,000 employees based in Madison. Nordic has deep roots in health IT staffing for EHR implementations and managed services and has expanded its solutions over the past few years to include best-in-class advisory consulting services. As a result of recent acquisitions, Nordic has also rapidly expanded the number of employees and clients it's reaching around the world. Through its acquisition of Healthtech Consultants, one of Canada's top healthcare IT consulting firms, in 2019, Tasman Global, a healthcare IT consulting firm based in the Netherlands, in 2020, and Bails & Associates, a leading ERP consulting firm headquartered in Pennsylvania, in 2021, Nordic is now able to serve the needs of more healthcare clients in a variety of markets. Together, Nordic's family of companies partner with 550 clients across the globe, helping them from strategy to execution deliver higher quality care at a lower cost.

In just over 11 years of existence, Nordic has received more than 25 workplace awards from nine different publications. Nordic was recently included on Modern Healthcare's Best Places to Work in Healthcare list, as it has been for six of the last seven years, and was voted as the #1 Best Place to Work in Madison by Madison Magazine in 2019. Since 2018, Nordic has also been recognized by Comparably for the Best Company Professional Development, Best Company Culture, Best Company for Women, Best CEO, Best CEO for Diversity, Best Company Leadership, and Best Company Outlook.