MADISON, Wis. – Madison Magazine has named Nordic the Best Place to Work in Madison for 2019. In each of the last four years, Nordic has been ranked in the top 10 on the magazine's list of the best companies in the Madison area with over 100 employees. This is the first time that Nordic has topped the list.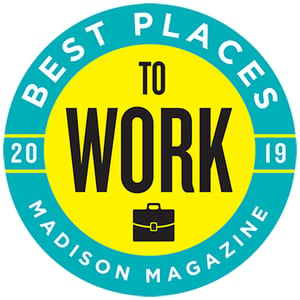 "It's certainly an honor to be named the best place to work in Madison," Nordic CEO Jim Costanzo said. "To continue to move up this list as Nordic has grown and evolved over the past few years is a testament to the amazing people we have on our team and the strong culture of openness, collaboration, and support that we've built."
Businesses on the list were ranked across engagement categories based on a 60-question survey submitted to employees. Nordic moved up the list this year from No. 7 in 2018.
"There is no shortage of talented people in Madison, and we're fortunate to be able to work with so many of them here," Senior Director of Candidate Relations Leah Anderson said. "In a competitive industry and market, we strive to provide everyone with a supportive work environment that allows people to be themselves, make a difference, and grow their careers."
In addition to being the best place to work in Madison, Nordic is one of the largest employers in the area. With over 260 of its nearly 1,000 team members residing in Dane County, Nordic is the 77th largest employer in the county, according to a recently compiled list published in this month's issue of In Business Magazine.
Much of that growth among Dane County employees has come from Nordic's Managed Services division, which provides healthcare organizations with remote IT support and maintenance. Nordic has added 100 employees to the Managed Services team in the past year. Approximately 80 of Nordic's 200-plus Managed Services members work at Nordic's Madison office. The division works with over 25 healthcare organizations and has added nine new clients in the past 12 months.
All that growth has led to a change of scenery. Nordic is currently in the process of moving its corporate office to a 50,000-square-foot space just off the Beltline. After outgrowing its space on Regent Street, Nordic will complete a move to Arbor Gate at 2601 West Beltline Highway later this month. The new office nearly doubles Nordic's office space.