MADISON, Wis. – Optimism and confidence in Nordic's future shines brightly among Nordic team members, according to a recent report. Nordic ranks No. 27 among large companies on Comparably.com's recently released list of the nation's top 50 companies with the best outlook. The list is compiled from nearly 10 million ratings from employees at over 50,000 companies.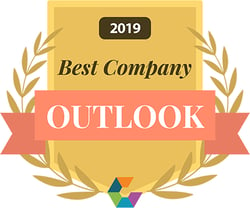 Nordic ranks higher on the list than tech giants Amazon, Apple, and Facebook. Among the five Midwestern-based firms on the list, Nordic ranks highest.
This recognition comes after Nordic has repositioned itself in the market over the past few years. Nordic has evolved from a staff augmentation firm focused mainly on EHR implementation to one offering a variety of consulting services focused on strategy, technology, and operations as well as managed services.
"Our team's belief in our future is rooted in two of our maxims, 'Be open and direct.' and 'Act like an owner.,'" Nordic CEO Bruce Cerullo said. "We are transparent with our team members – regularly sharing our financial outlook and long-term plans. People can handle the truth, and – armed with good information – they tend to make great decisions in support of our mission of service. Equally important, we share equity upside with everyone. Funny thing is, if you are treated like an owner, you tend to act like one! It's a credit to the hard work of the Nordic team that keeps our outlook strong."