MADISON, Wis. — Nordic is excited to announce it has reached an impressive milestone by partnering with its 100th healthcare client. In just over four years, Nordic has quickly expanded to become the industry leader in Epic consulting, with a reputation for attracting the best Epic consultants in the industry.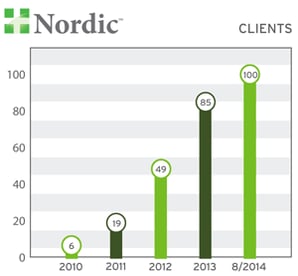 Nordic has partnered with Epic clients in 40 states, and its consultants average 10 years of industry experience. Collectively, Nordic's team members have worked with 85 percent of Epic's clients over the course of their careers. Nordic has partnered with a wide spectrum of hospitals and health systems, including children's hospitals, short-term and long-term acute care hospitals, critical access hospitals, psychiatric hospitals and rehabilitation hospitals.
"This is an exciting milestone for Nordic and for the customers who have partnered with us," Nordic VP of Client Relations Adam Dial said. "In four years' time, we have been able to work with almost one-third of all Epic clients. I think this demonstrates our commitment to achieving the highest levels of customer satisfaction and consultant quality. We are excited to continue our work with healthcare customers to deliver the knowledge and experience needed to help them reach their goals through improving their EMR."
Watch a 30-second video with VP of Client Relations Adam Dial discussing this important milestone.
About Nordic
Nordic, based in Madison, Wis., provides Epic consulting services to healthcare organizations across the country. Today, Nordic works with 100 clients in 40 states and employs 450 employees, including 375 consultants. Nordic's consultants have an average of 10 years healthcare IT experience and four Epic certifications. Nordic is the largest Epic-only consulting firm in the country, focusing exclusively on Epic software implementations, optimization, remote support, and affiliate extension projects. In 2012, KLAS, an independent rating agency for the healthcare industry, ranked Nordic No. 1 in Epic Staffing and Implementation Support.