MADISON, Wis. – Nordic is excited to welcome Jim Costanzo as its new CEO. Costanzo succeeds Bruce Cerullo, who has transitioned into the role of active chairman of Nordic's board. Costanzo comes to Nordic from Ernst & Young, where he served as both global health leader and Americas health advisory leader.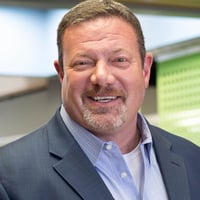 Nordic first announced plans for the leadership change in April.
"I'm excited to join Nordic as we are evolving to offer a variety of new services to serve our clients." Costanzo said. "We have great talent here and a culture committed to making a difference in healthcare. That's a great combination."
Costanzo brings with him well over 30 years of experience in the healthcare provider and payor sectors, ranging from full life-cycle systems development through capacity planning, execution, maintenance, and operations. He has spent time with industry and government leaders all over the world, understanding the health issues they face and helping them find solutions to their most complex issues.
"Jim's experience and expertise in healthcare is unparalleled," Cerullo said. "Just as important, he is a great person, and I have no doubt that he will carry on the maxims and values that have made Nordic successful."