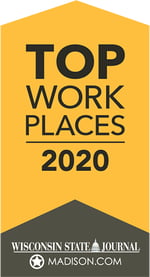 MADISON, Wis. – Adding to Nordic's growing list of workplace accolades, the Wisconsin State Journal has named Nordic one of the Top Workplaces in the Madison area. Nordic ranks No. 7 in the midsize category for companies between 100-250 Madison-area employees.
This marks the ninth different publication to recognize Nordic as a top workplace. In September, Madison Magazine named Nordic the Best Place to Work in Madison.
"Now more than ever, our culture of honesty and collaboration are crucial to helping healthcare organizations move efficiently to tackle their current urgent challenges and ultimately improve patient outcomes," EVP of Client Partnerships Michelle Lichte said.
The State Journal's complete list of Top Workplaces was compiled from employee surveys and includes 40 companies across Dane, Sauk, and Columbia counties. It's divided into three categories based on total number of Madison-area employees. The list aims to recognize organizations that employees identify as having a supportive culture, a shared mission, a dedication to work-life balance, and stand-out benefits.
Nordic is the 77th largest employer in Dane County with roughly a quarter of its 1,000 employees based in Madison.