MADISON, Wis. – Among tens of thousands of eligible companies, Nordic has been named one of the best companies in the nation for work-life balance by Comparably.com. Nordic ranks No. 23 in the large companies category, which includes organizations with more than 500 employees.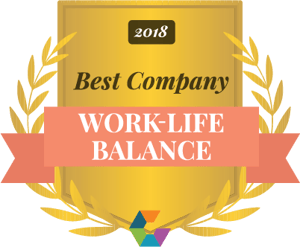 Comparably's awards are derived from sentiment ratings provided by employees who anonymously rated their employers on Comparably.com.
"This set of Comparably Awards focuses on companies that most reward their employees," said Comparably CEO Jason Nazar. "These employers stand out as the best of the best providing amazing benefits and great work-life balance to foster some of the happiest employees in the United States."
Nordic was founded with the goal of offering EHR consultants a higher level of support and career opportunities to fit their lives. While Nordic has expanded beyond EHR staff augmentation, a culture of building strong relationships and offering the best opportunities remains.
In addition to traditional traveling consultants, Nordic's expanded opportunities include Managed Services. That division offers team members the ability to support healthcare organizations remotely from Nordic's Madison home office or from wherever they call home while avoiding weekly travel.
This latest honor comes a week after Nordic was named one of the best places to work in Madison for the third year in a row. The home office, which includes Madison-based employees and remote teammates across the country, enjoys unlimited results-based paid time off. That is one of many great benefits extended to salaried consultants as well.
"Our goal is to give employees the best opportunities to grow their careers but also provide an environment where they can thrive as individuals," VP of Human Resources Vicki Ryan said. "While our work to improve healthcare is important, we place equal emphasis on caring for our team."