MADISON, Wis. – Nordic has been recognized as one of the nation's best companies for employees to grow their career skills with its inclusion on Comparably's list of the Best Companies for Professional Development, released Thursday. Over 60,000 U.S. companies were eligible for the list, which was compiled from anonymous feedback submitted by current employees over the past 12 months. Nordic is ranked No. 31 on this year's list.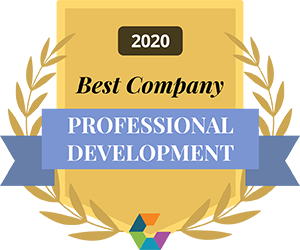 Healthcare is always evolving, especially now as organizations are rethinking business models and constantly adapting to changing conditions. That's why Nordic has always focused on giving teammates opportunities to evolve and adapt their careers. In addition to finding work that people are passionate about and fits their lifestyles, Nordic provides growth opportunities at all levels of the organization so its employees can carve out personalized growth paths. With a diverse and growing set of solutions, Nordic offers endless career possibilities.
"As Nordic has grown, it's also provided many opportunities for me – and many others – to learn new skills and take on new responsibilities," said Leah Anderson, VP of Staffing Services, Talent. "I joined Nordic as a Candidate Relations Manager just under five years ago, and I'm proud to have been able to grow alongside Nordic with the support and opportunities that I wouldn't get from other companies."
Nordic's maxim "Grow. Teach." underscores this culture of growth and collaboration. Teammates are encouraged to not only learn and grow their skill sets but to also share what they learn so that everyone becomes more knowledgeable.
Nordic's Consultant Development Program provides consultants with opportunities to learn new skills that will match the growth of Nordic, ultimately providing the best experience for clients. The program has provided opportunities for more experienced consultants to mentor their teammates as consultants learn from each other. This summer Nordic has hosted a Summer Education Series, featuring biweekly webinars for consultants and home office employees. The sessions focus on a wide variety of personal and professional development topics.
In just over 10 years of existence, Nordic has received over 25 workplace awards from nine different publications. In addition to this latest recognition, Comparably has also included Nordic on its list for Best Work-Life Balance in each of the past two years. Since 2018, Nordic has also been recognized by Comparably for the Best Company Culture, Best CEO, Best CEO for Diversity, Best Company Leadership, and Best Company Outlook.
Earlier this month, Nordic was named one of Modern Healthcare's Best Places to Work in Healthcare for the sixth time in the past seven years.