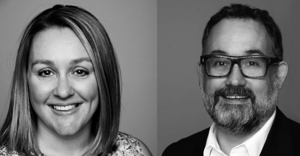 Health systems across Canada are in the midst of the Big Squeeze, where demand has reached record levels due to a host of clinical factors (longer life expectancy, aging population, COVID-19, Long COVID, other viruses, and the COVID-induced backlog) at the same time as they face dire workforce shortages. Solutions such as virtual care and data interoperability reduce the need to have people in a particular place but can't succeed unless we get organizations away from paper-driven care processes.
The experience of organizations implementing new systems during the pandemic shows us that any challenge can be overcome if organizations commit the necessary financial and human resources and prioritize the leap to clinical transformation enabled by technology. As more organizations move from approved business cases and system selection into implementation, they can improve their lot in life by adopting three leading practices: Go big, Go fast, and Go to the front lines.
How did we get here?
Canadian hospitals continue to invest heavily in clinical automation despite COVID headwinds and labor shortages. So, why would health systems choose to implement their new computer systems in the middle of the Big Squeeze? The short answer is that they have simply run out of time. In the United States, much of this investment was funded by the HITECH Act and occurred 10 to 15 years ago. Some leading Canadian hospitals and regional health authorities have kept pace, but for the most part, without large-scale funding, advancement has been piecemeal.
With COVID, the technical debt caught up with the Canadian healthcare system, leaving organizations woefully unprepared and without the digital tools they desperately needed to adequately deliver care as patient interaction moved to a variety of environments outside of the traditional office setting. These technical gaps stand in stark contrast to the high standard of patient safety and clinical outcomes that these systems have always offered.
Which brings us to today. Major clinical information system (CIS) initiatives are underway in seven of 10 provinces. Prince Edward Island (PEI) completed this work years ago, while Manitoba and Saskatchewan have yet to begin. Of the seven provinces currently in flight, five have established province-wide initiatives, while in British Columbia, four out of five regional health authorities are at work. In Ontario, more than 50 hospitals are moving forward. While many of these projects are well on their way, a substantial number are just getting started and are either at business case development or system selection stages.
What are we trying to achieve?
While the major goals of these initiatives are improved clinical outcomes and patient safety, several smaller goals must be achieved along the way for long-term success. These include delivering the system on time and on budget, clinician adoption, and an improved patient experience that enables higher patient engagement.
Go big
The Canadian approach to healthcare (which is a departure from our take on poutine or quaffable ales) – going slow and keeping the scope small - has not succeeded. It is time for us to do the unusual: Go all in. Get as much (properly) implemented at once as you can. Think of it as a "moonshot" (and we were part of the original, thanks to Héroux Machine Parts) if that helps. These types of initiatives are once in a generation and have the opportunity to be transformational for the entire healthcare system and the patients it serves. Having projects with multiple phases of scope that require any kind of broad retraining of resources is costly. As experienced during COVID, disruption can delay and add tremendous costs to already expensive implementation projects. Capture as much of your final scope as you can in your first pass.
Go fast
Keep the project moving as quickly as possible, working toward a manageable implementation plan. The traditional approach to implementation with massive amounts of expensive on-site resources was turned on its head during the pandemic. Large hospital organizations in Canada went live knowing that extending a project's timeline costs more, strains resources, and makes it challenging to capture the enthusiasm of your organization. We know that lengthy projects can experience added governance issues as senior leaders transition in and out of organizations and can be affected by more churn among project resources. Run rates for medium-sized implementation efforts are measured in millions of dollars per month, with short delays eating contingency, and longer setbacks requiring board approval for further funding. With proper planning, ripping the band-aid off quickly hurts much less when implementing a CIS.
Go to the front lines
Nothing is more important to the success of a clinical transformation project than the engagement of end users in its design. The most successful organizations engage from both a bottom-up and top-down approach as early as system selection. Yes, leadership buy-in from the executive level to middle management is critical, but if front-line clinicians are left out of the process, you will end up with burned out, unhappy staff who resent the implementation of the new CIS rather than embrace it.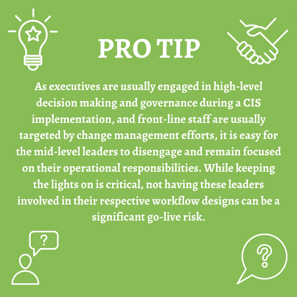 Change is hard. Change during the Big Squeeze is even harder. Stasis is the hardest of all, however.
Now is the time to accelerate investments
It has long been recognized that digital technology can improve access to care, safety, and outcomes. However, organizations are being pressed on whether now is the right time to implement a new CIS. While it can be daunting for organizations to take this on during challenging times, sitting idle and doing nothing is a much worse option at this point in time. Organizations have long advocated for care delivery at the top of each regulated profession's licensure and capabilities. Going forward, the next shift is to deliver care at the top of license of each organization or facility's capabilities. Distributed approaches, such as using urgent care or dedicated clinics to minimize emergency traffic, creating standalone diagnostic testing facilities to lower volumes on hospital-based modalities, leveraging pharmacists to deliver vaccinations, and following up on patients using virtual care are all part of this trend. Each of these requires robust information sharing to improve care and continuity of care as well as maintain patient safety. Implementing a CIS enables new care pathways for a new era. The way out of the Big Squeeze isn't to defer CIS investments, but to accelerate them.