Deciding whether to consolidate into a Single Billing Office (SBO) model can be a lot like planning a road trip with friends. Splitting gas money and staying in the same hotel sounds like a really good idea, but after three hours of carpool karaoke, you might be starting to have doubts.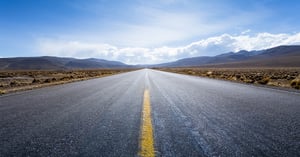 Being able to manage and adapt are important skills on any journey, including an SBO transition, which brings hospital and professional stakeholders together. At least you don't have to worry if anyone snores or leaves the toilet seat up.
To prepare for your road trip, here are three main areas to consider when thinking about your journey to SBO.
Your driver: What are your main ROI drivers for SBO?
One of the first items of business on any road trip is to determine who's driving. The same goes for your SBO journey.
Immediate drivers when evaluating your self-pay A/R inventory, your related pursuit strategies, and whether or not to implement a single patient statement are:
Cost to collect (staff, outsource vendors, technology investments)
Collecting with compassion (policies)
Collection ratio
To make an informed decision about these drivers, it's critical to know both the current value of your outsource collection and IT-vendor partners. You'll also want to examine your in-house staffing and projected revenue impact of cost-cutting measures.
While these are not common times, it's not uncommon for Nordic to help design and implement a self-pay management strategy that is both compassionate and collaborative for your patients. It can also influence your key metrics to the tune of more than 100% reduction in bad debt transfers, substantial vendor cost savings, and improved workflow efficiencies through precise segmentation strategies for high-value accounts and automation of collections for low-value accounts.
Your route: Just how integrated do you want to be?
Depending on how it's applied – operationally or technically – the term "Single Billing Office" can have very different connotations. Let's start with the technical scope of SBO, which essentially consolidates self-pay functions in Epic to a unified set of tools and workflows. The three core components are:
Single Statement: Professional and technical balances are sent on a single statement to guarantors.
Single Payments/Payment Plans: Guarantors can make a single payment on outstanding balances and set up unified payment plans.
Unified Workflows: The same set of tools within Epic are used to manage technical and professional self-pay balances.
That's the technical definition of Epic SBO, but what does that truly mean for your organization's operations? An operational move to SBO can be limited to supporting the basic technical needs around consolidating self-pay functions to a single set of staff and standardizing self-pay policies between professional and technical areas.
However, some organizations look to bring all professional and hospital billing functions under a single roof and potentially even set up a new physical space for staff. A lot of gray area lies between those two scoping extremes. Clearly defining an end state for integration is a key initial scoping item. If a more consolidated structure overall is beneficial to your organization outside of solely self-pay, a conversion to SBO is a great time to consider making those moves.
Your Destination: What should success look like?
There are two potential paths to SBO, which vary widely depending on your resource and timeline requirements. If you are not yet live on Epic revenue cycle applications, choosing to pursue SBO during your initial implementation has a negligible impact to the timeline and resource needs. Alternatively, if you are already live on the Epic revenue cycle, an SBO transition is a large undertaking that can take 6-9 months as a stand-alone project and requires multiple dedicated resources.
The general rule of thumb here is to strongly consider implementing Epic SBO during your initial implementation if there is any desire to move that direction in the future. If it isn't possible to enable SBO during your initial implementation, consider implementing a single service area during your initial implementation to allow the use of a single guarantor account. This is a prerequisite for fully realizing the benefits of SBO, if you plan to do so in the future.
Just as much as everyone loves a good road trip, every patient loves a single statement. But just as each road trip is an experience in itself, so is an SBO journey. No two are alike and all require a tailored approach where operations is driving and IT has a reliable map!
No matter where you're at on your SBO road trip, Nordic can help you navigate it. If you're interested how we can make this journey more stress-free, let's talk.