The healthcare industry is in an era of what Nordic calls the "Big Squeeze:" the confluence of market inflation, high labor expenses, and declining operating margins. KaufmanHall's Operating Margin Index (Figure 1) highlights the financial crisis hospitals are in today and how these razor thin margins are becoming the new norm in a post-pandemic environment.1
Figure 1: Kaufman Hall Operating Margin Index YTD by Month
Nordic believes that the continued "Big Squeeze" coupled with the regulatory changes of 2023 – primarily the unwinding of continuous Medicaid enrollment and the ending of the Public Health Emergency (PHE) regulations – will further erode hospital margins this year. To combat these challenges, providers should optimize and automate their revenue cycle operations.
What is continuous Medicaid enrollment and why should I care?
As part of the Families First Coronavirus Response Act (FFCRA), Congress provided increased Medicaid funding to states provided they met certain conditions. One of the conditions was pausing the termination of Medicaid enrollee coverage until after the end of PHE.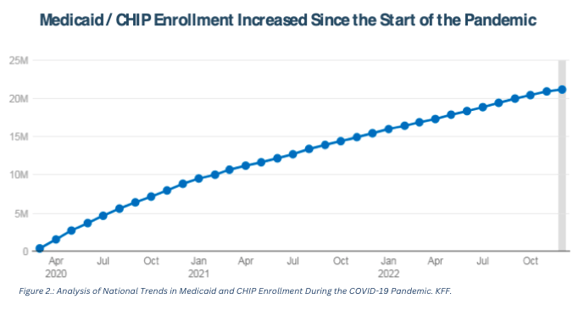 The goal was to temporarily provide "continuous enrollment and coverage" to millions of uninsured non-elderly populations while PHE was in effect. This strategy provided millions of uninsured non-elderly people access to affordable health care during the pandemic as illustrated in (Figure 2).2
And in addition to managing population health during the pandemic, this condition also provided significant relief to the already razor-thin hospital operating margins by generating cash flow for care that would otherwise have fallen into charity care or bad debt.
However, with the stabilization of COVID-19 towards the end of 2022, the Consolidated Appropriations Act of 2022 delinked the continuous Medicaid coverage condition from PHE by setting an end date of March 31, 2023. "Medicaid unwinding" is the term used for states to resume their annual Medicaid eligibility reviews. During this unwinding period, states have a 12-month window beginning from April 1, 2023, to redetermine enrollment criteria based on federal guidance, followed by two more months to complete all processes. While industry estimates for loss of coverage vary drastically from 5 to 15 to 24 million enrollees, predictions in 2023 are highly uncertain due to differences in how states could prioritize renewals, as well as the anticipation that those still eligible may lose coverage due to simple procedural reasons.
Therefore, just like continuous coverage provided relief to financially challenged hospitals during the pandemic, the end of continuous Medicaid coverage in 2023 is expected to have an adverse effect on providers and especially hospitals through increased volume of uncompensated care, denials, and write-offs.

The impending crisis
Providers currently serving a significant Medicaid population and those in states that did not adopt or implement Medicaid Expansion as part of the Affordable Care Act are expected to see a change in their payer mix with a potential increase in their self-pay population due to Medicaid unwinding.
This change in the payer mix is expected to place an added financial strain on providers because of: (a) anticipated difficulty in determining patient eligibility and (b) challenges with collecting self-pay payments. The first is expected to lead to an increase in denials, while the second is expected to drive an increase in financial assistance and bad debt write-offs.
Fitch Ratings has already warned that the revenue erosion could be particularly troublesome for not-for-profit hospitals and especially safety net and rural hospitals with a higher mix of Medicaid patients where an increase in uninsured population would put greater financial stress to their razor thin margins.
Additionally, in an era where hospitals are experiencing staffing challenges, verifying accurate insurance coverage for the now ineligible population and supporting the state with re-enrollment activities will continue to add to the growing administrative burden that hospital staff are struggling with today. Over time, all these challenges could also hurt the hospital's credit quality.3
Preparing for the change
Medicaid unwinding is just one of the industry's challenges facing providers today. Therefore, the best protection against any challenge is to focus on improving and optimizing the core operations of the organization. And outside of patient care delivery, revenue cycle management (RCM) is the most critical operation within a provider organization because of its direct link to cash collection. This point was validated in a recent Bain-KLAS survey that listed revenue cycle as the most important category for software investment strategy with a 12-month outlook from the end of 2022 (Figure 3).4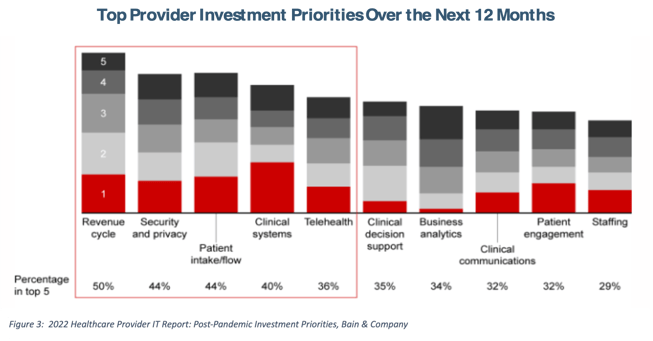 In addition to technology optimization activities, providers should review key revenue cycle functions such as patient cost estimates, ​​point of service (POS) collections, financial clearance, denials management, and avoidable write-offs for potential performance improvement and automation opportunities.
Providers should also continue to build robust financial reporting and forecasting capabilities (e.g., analyze the propensity to pay for different self-pay populations) to better forecast their revenue outlook. In fact, like a patient's annual wellness visit, provider organizations might benefit from conducting regular "wellness checks" of their entire operation to optimize performance and maximize cash collection, irrespective of the external challenges faced.
Pursuing a holistic approach to problem solving
Moving forward in the anticipation of Medicaid reimbursement loss, Nordic recommends pursing a holistic approach to problem-solving (Figure 4).

Revenue cycle optimization, operational efficiency, care coordination, and implementation support help organizations successfully navigate the challenges associated with Medicaid unwinding. While the future ahead may be daunting within post-pandemic recovery, transformation is possible with appropriate, strategic management of existing assets.
—
Sources: