There has been a rapid expansion and adoption of telehealth and COVID-19 lab testing services. As a result, organizations have needed a process and tool to help them expedite communication and implementation of new payer rules for charging, coding, and billing these services.
At Nordic, we saw a collective need across all our clients for a payer-specific guide to charging, acceptable codes, and reimbursement for telehealth services. If operational and technical processes are not structured correctly, these new high-volume services could lead to costly rework, losses in reimbursement, and delayed cash flow.
CMS and commercial insurance companies have published new rules for telehealth and COVID-19 related lab services. Because of the frequency of updates and lack of standardization across all payers, provider organizations are spending valuable time capturing and distributing new payer rules and updates in addition to facing challenges in keeping up with implementing the changes.
Nordic understands the financial impacts of lost revenue, denials, underpayments, write-offs, and cash flow delays when payer rules are not implemented accurately and timely. Knowing this issue touches most provider organizations, Nordic's Performance Improvement team developed a payer-specific matrix to charging, acceptable codes, and reimbursement including
Telehealth and lab services
Guidelines from CMS and the top national payers
Updates shared weekly through June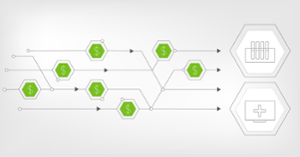 In July we will reassess update timelines as payers/providers stabilize rule sets for telehealth and COVID-19 lab testing services.
In addition to the top national payers, organizations can create a customized matrix that takes into account your local payers. In this challenging time, our experienced revenue integrity and business office solutions team can also support implementing the processes and tools for conveying payer-specific charging, appropriate coding, billing, and reimbursement guidelines and provide support and training across all impacted depts, typically operations, coding, billing, and reimbursement.
Click to request the Telehealth and COVID-19 Lab Payer Matrix. You can also Ask Nordic if you have any additional questions about supporting the implementation of appropriate charging, coding, and billing for these services.
We are committed to supporting all provider organizations in your ongoing efforts to respond to the needs of your patients and community and keep up with the changing landscape for telehealth and COVID-19 lab testing services. We thank you and your organizations for continuing to serve our communities in this difficult time.