In one way or another, the global pandemic has likely impacted every department of your organization. One area that's experienced some big changes and demand over the past year is your service desk. Traditionally, service desk agents have worked behind-the-scenes to manage internal IT requests from clinicians and operational teams. Now, Service desk agents may also become the first line of support for your patients.
They're helping patients with everything from triaging telehealth issues to scheduling COVID-19 vaccine appointments. And on top of that, service desk agents are still responsible for managing their internal IT support duties. It's their job to make sure everyone – patients, clinicians, and operational teams – walks away with a resolution to their issue and a satisfying experience. But with such high demand for support and an influx of requests to manage, some organizations are finding it challenging to successfully scale up and down as needed.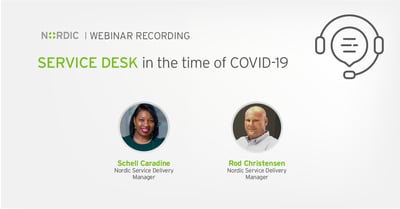 Nordic's Service Delivery Managers Rod Christensen and Schell Caradine offered their perspective and advice on this topic in our webinar "Service Desk in the time of COVID-19." They explored strategies to help your organization optimize your service desk and earn more satisfied clinicians, employees, and patients. Timely topics include:
The role of the remote agent
Overcoming the struggle to scale
Deploying strategies that serve
Measuring metrics that matter
Below you can view the full recording of this webinar. If you have any questions after watching the webinar or would like to discuss how to scale and optimize your service desk, let's talk. And if you need service desk assistance, click here to learn more about Nordic's industry-leading, around-the-clock service desk support.