If you're considering consulting, you may be wondering, "Will I be able to grow my career and advance to the next level while I consult, or do I have to sacrifice career growth during my consulting years?"
Unlike other careers, consulting doesn't necessarily come with a yearly title change or a predetermined path to your next role. But while it may not look like the traditional corporate ladder, consulting can provide an even better opportunity to grow as a leader and strategist.
During my six years as a consultant, I've been able to branch outside my traditional application experience and develop my skills as a leader, project manager, mentor, and executive advisor – all without changing jobs.
The key is knowing how to seize opportunities outside your traditional experience and make yourself an invaluable presence at your client organizations. Here are a few ways to advance in your career while consulting for Nordic.
1. Be intentional about your growth path.
The first step to growing your career is to know what your goals are. Maybe you want to be the ultimate subject matter expert in your area, or you want to sit at the table with hospital CEOs and work on the next big thing in healthcare. Whatever your goals, take some time to think about what you want before you assess how to get there.
Once you have an idea of where you want to go, you can start making intentional moves in that direction. For example, in a previous role, I helped an organization set up Meaningful Use. I realized that because every hospital would face Meaningful Use requirements, I could make myself indispensable and sought-after if I learned everything about the program. Sharpening my expertise on Meaningful Use opened up a world of quality reporting that I wouldn't have accessed otherwise.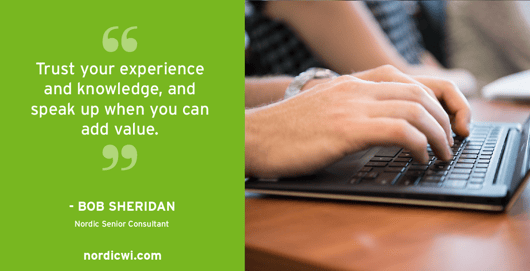 2. Leverage your professional development capabilities.
Nordic offers consultants the opportunity to pursue professional development and additional certification, to help you grow your skills outside your original application. Reach out to your practice manager or director to let them know your goals and direction, and talk to them about the training opportunities available to you.
Not only can your practice manager or director provide context on where the industry is headed, they can also watch for opportunities that match your path.
If you are unsure what the "best" next step is, take a look at existing job postings that interest you to determine where you need to grow and learn. Does your skillset align with the posting? Do you have the certifications or education requirements? State, county, or other public organizations almost all have public-facing portals where you can look up jobs that aren't even posted.
3. Act as a leader before you are one.
You may not be managing other people now, but it's a good idea to act like a leader before you have the title. Many consultants are hired because they're charming, outgoing, and social, and it can be challenging to rein in your social tendencies when you're with your peers.
Just remember that in a few years, you may be managing the people you're socializing with today – and it can be hard to make that transition if they don't see you as a leader. This doesn't mean you should be distant or cold; instead, maintain a warm and supportive professionalism that will make people gravitate to you as a mentor and advisor.
4. Develop your presence in the room.
As a consultant, you're often walking into a room of healthcare executives 20 years your senior – people with decades of experience in the industry and the connections to match. You will very rarely be the most tenured person in the room, nor should you be.
The key is to trust your experience and knowledge, and speak up when you can offer value (hint: you don't need to talk when you don't know what you're talking about). Don't underestimate the power of having a seat in the table, rather than skipping meetings or ducking out early because you don't feel useful. If you can get into regular meetings with organizational leadership and consistently offer an informed perspective, you'll find yourself being invited back
5. Be flexible and open.
While Nordic endeavors to offer you the best opportunities for your preferences, sometimes you'll encounter a great project in a less-desirable location or in an area where you have less experience. Be open to these projects. I've found that accepting a location that others would pass over – or jumping into an application outside my comfort area – has paid dividends in helping advance my career.
***
And at the end of the day, don't forget that one of the best ways to advance is to build relationships and trust at your current customer. Once you have that trust, you are more likely to hear about new projects and roles from your team.