Healthcare organizations have never experienced cash flow disruption like what's been brought on by the COVID-19 pandemic. With drastic volume shifts and reductions as well as workforce disruptions, organizations will continue to be challenged with decreased cash flow.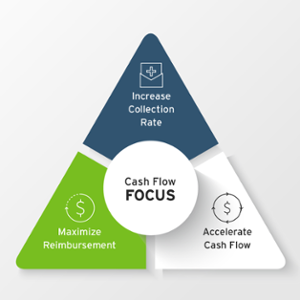 That's why it's critical to establish an adjusted cash flow strategy to help increase collection rates, maximize reimbursement, and accelerate cash flow to stabilize cash performance and improve financial outcomes.
A key component of cash flow stabilization and improvement is understanding the drivers to effectively predict cash performance.
Traditional components like unbilled and denial resolution are still important. However, successful navigation through the recovery from COVID-19 also require more advanced considerations. These include immediate and long-term impacts to payer mix, new and evolving reimbursement methods, enhancing payer communication strategies, and timeline expectations to resolve A/R.
More holistic and refined predictive analytics can help guide an organization's strategy and assist the cash flow recovery journey. Having this line of sight allows for a comprehensive and well-thought-out cash flow strategy. Key activities of these strategies include the following.
Develop and implement an adjusted A/R and denial strategy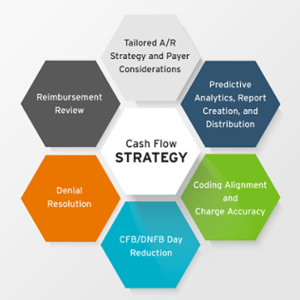 Identify key payer A/R opportunities and propensity to pay to accelerate payments
Consider different payer approaches, such as accelerated and advance payments
Reduce unbilled backlogs and identify opportunities for coding alignment as well as charge accuracy and timeliness
Consider system enhancements and operational process improvements to align with the adjusted approach

Understand potential system automation opportunities for charge capture and processing edits and other billing workflows

Create payer-specific A/R strategies that consider historic payment performance

Consider settlement opportunities to reduce administrative needs to resolve A/R

Establish key focus teams to drive action plans forward
Leverage predictive analytics
Create or enhance predictive analytics to anticipate cash flow
Incorporate payer reimbursement updates to best estimate cash flow prediction
Standardize consistent reporting across the organization and service lines
Prioritize root cause issues
Streamline denials processing and categorize root cause issues

Consider all administrative and clinical areas and engage cross-functional leaders to resolve and prevent denials

Establish COVID-19 payer billing and reimbursement guidelines
Understand evolving reimbursement methodology
Determine how COVID-19 impacts payer reimbursement
Create a payment review process to verify accurate reimbursement
Cash flow challenges will likely continue for many months, and full financial recovery will take even longer, but you can help stabilize and improve cash flow with immediate consideration and action.
If you have any questions related to changes you can make now to improve your cash flow, please contact us at AskNordic@nordicwi.com. We thank you for all you are doing. We're here for you and ready to help.