I was recently reading the excellent article by Drs. Ancker, Gossey, and colleagues from Weill Cornell Medicine and the Institute for Family Health in New York titled "Effect of an Electronic Health Record 'Nudge' on Opioid Prescribing and Electronic Health Record Keystrokes in Ambulatory Care." The researchers were interested to learn if they could increase the likelihood that new prescriptions by their doctors for short-acting opioids are consistent with CDC guidelines. They examined two different types of practices: a large faculty practice of a major medical school and a smaller federally-qualified health center (FQHC). Curiously, or maybe not, the FQHC which primarily was made up of family medicine physicians and nurse practitioners started the study with a higher level of consistency with the CDC recommendations.
The researchers made very small changes to the default ordering screens in their EHRs. Initially, when a physician first searched on an opiate, they saw either blank boxes for daily frequency and total number of pills to be dispensed (FQHC) or 7 days or 30 days of dispensed pills (faculty practice). The intervention simply changed the default ordering screens for common short-term opiates to automatically include CDC-recommended frequency and total number/days of pills to be dispensed. That was it. The ordering physician still had free will and could change the dose, frequency, and dispense number with only a handful of keystrokes if desired. The question of the study was: would they?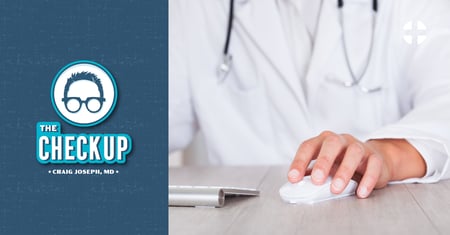 At the faculty practice, the change in default improved "concordant prescribing" from 12% to 31%, yet didn't meaningfully impact the proportion of CDC-consistent short-term opiate prescribing (which remained flat at an impressive 44%) at the FQHC. The good news for the family doctors and nurse practitioners at the latter site was that the new defaults decreased their clicks by over 60%. I'm not big on click counting as a proxy for usability, but the ability to order some meds with half the clicks is always a win.
I remain in awe of how easily we humans can be "nudged" to act in a predetermined way. Facebook and Google have become two of the most valuable companies in the world by developing technology to move us in a given direction without us realizing it. The science of the default effect can be used for good or evil; we in healthcare don't leverage our software enough to make it easier to do the "right thing." I most commonly see electronic health records (EHRs) configured to encourage physicians by reminding them of the "right thing" before they have a chance to do it or after they've already done the "wrong thing." By utilizing preordained choices via the default effect, we can help doctors follow practice guidelines with minimal clicking, typing, and mental calculation.
The authors note that "[e]vidence from other sources suggests that the default is not only easier to choose but is also perceived to be endorsed by the architects of the social or technical system." In other words, physicians (who are only human after all) often assume that the default choice in their EHR is the one most-preferred by their institution or department. Sometimes that assumption is accurate, but in my experience, it's often not. I think common reasons for specific EHR configuration choices are (in order of frequency): that's the way it came from the vendor, that's the way the analyst thought it should be set up, and that's the way the one physician who came to the meeting wanted it. We can do better by putting more thought into what the default choice is and how it leads to the Quadruple Aim.
The default effect can be used in EHRs for much more than ordering decisions though. Documentation templates can help physicians choose a path that's clear when writing progress or procedure notes. Instead of loading up notes with data that are not relevant or important (thank you updated E/M rules), pre-configured texts can help physicians include only essential information. We can design the EHR to help physicians decrease unnecessary notifications and messages by defaulting the "best" option for patient results and administrative requests so doctors are most likely to get the information they need when and where they need it.
This study and others like it should remind us to not rush through implementations of new EHRs or even new modules. The little details like default actions can make or break the user experience as well as help our clinical users take the best care of their patients. We need to constantly look for ways to leverage the default effect to make it easy to do the right thing.
Need some help configuring your organization's default actions? Let's talk.