As most of you likely know, the American Medical Association (AMA) and Centers for Medicare and Medicaid Services (CMS) released updated guidelines describing the documentation requirements for outpatient clinic visits using the CPT® evaluation and management (E/M) codes. These new guidelines went into effect on Jan. 1, 2021. To summarize the changes, the previous system of complicated box-checking, review of system counting, and physical exam requirements has been replaced with a more easily understood and streamlined decision-making process.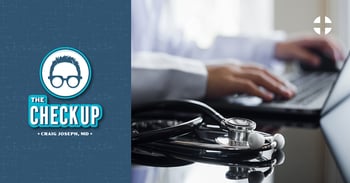 As of the first of this year, E/M codes are determined either by time or medical decision making (MDM). If time is used, the physician calculates the number of minutes they personally spent preparing for the visit (e.g. reviewing history, previous test results, and interim update), during the visit (i.e. face-to-face time), and after the visit (completing documentation, coordinating care, etc.). All of this time must be on the day of the encounter, and the old requirement that counseling comprise at least 50% of the visit for time to be used is now void. If medical decision making is used to drop the appropriate charge, the physician takes into account the number and complexity of problems addressed during the visit, the amount/complexity of data to be reviewed and analyzed, and the risk of morbidity/mortality of patient management decisions made during the encounter. If all of this is news to you, consider reviewing some of the AMA's guidance here and here. At Nordic, we've produced what I think is a lot of helpful content, including webinars, white papers, and blog posts with oodles of info. Click here for all of your new ambulatory E/M needs.
To add further potential confusion into the mix, in addition to updated definitions of each E/M level, on Jan. 1, CMS changed the wRVU (Work Relative Value Units) associated with each E/M code, increasing all but 99202 and 99211. As some physician compensation agreements are based on wRVU, it is important to be aware of all both of these concurrent changes.
Even though we are less than 40 days into the new year, Nordic is starting to see some trends regarding our clients and the new CPT E/M code descriptions that have come into play. Health systems with which we work seem to fall into one of three categories: Ahead of the Game, Right on Schedule, and In Catch Up Mode.
The Ahead of the Gamers started their preparation back in October, mandating that all billing clinicians participate in interactive, self-guided training about the changed documentation requirements. They had a formal assessment requiring a score of 80% to prove understanding, receive CME credit, and even to be allowed to see patients come January. They reviewed and updated documentation templates to ensure that clinically-unnecessary information was no longer routinely included. They held specialty-specific documentation webinars during the first weeks of the year with live question-and-answer sessions thereafter, all to reinforce what was learned earlier. They began concurrent audits of physician code selection to ensure everyone was complying with the new requirements.
The Right on Schedulers began their preparation in early November. Their clinicians were required to do training as well, but it wasn't quite as polished, specialty-specific, or context-based. They were required to participate in an online assessment, but there was no minimal score that had to be achieved to prove competence. CME wasn't offered, and many physicians didn't take the training as seriously as they might have. Some documentation templates were reviewed and updated, but only those that were very commonly used throughout the organization. A few Q&A sessions were offered, but they didn't occur until mid-January, weeks after the new descriptions went live. Random audits were done to gauge clinician compliance, and individual one-on-one training was offered to specific doctors who were identified.
The Catch Up Moders never had an organizational mandate for clinician E/M training, so of course there was no way to track participation or judge physician understanding. The Catch Up Moders sent out a PDF about the new documentation requirements via email to their clinicians, so it's anyone's guess about who read what. No organization-wide documentation templates were reviewed for clinically-unnecessary information, so most ambulatory progress notes that were based on those templates looked exactly the same as last year. (A win for note bloat!) No live sessions with coders were offered, but clinicians were told that they could reach out to a coding team member if they had any questions. No changes were made to the standing coding audit schedule, so no one is sure what – if anything – has changed given the Jan. 1 guidelines.
Which group are you or is your organization in? What are the financial and compliance implications of membership in each group? We're starting to get some numbers in from our clients and will have more details once patterns are clear. I don't think I'd be going out on a limb to say that the Ahead of the Gamers are going to come out ahead of the Catch Up Moders in the long term!
Early indications from organizations well-prepared for the E/M and wRVU modifications are showing positive distribution shifts associated with the changes. Organizations which are seeing consistent E/M distributions from 2020 to 2021 are more likely to have documentation, coding, and reimbursement opportunities. E/M opportunities coupled with broader wRVU changes could result in material financial impacts for your organization
Need help determining which group you're a part of or how to gauge next steps now that we're live with the new code descriptions? Let's talk.