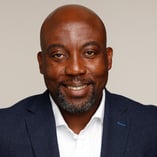 Growing up in Ghana, I saw my father battle kidney disease, need dialysis, then struggle to procure the equipment and consumables for his care within an immature healthcare system. Today, after two decades working in the healthcare sector, I see the modern UK healthcare system also facing challenges to meet the promise of fulfilling the needs of its people.
A System Under Pressure
The UK healthcare sector faces massive challenges. Its growing and aging population requires more resources. Its expanding waiting list for treatment of care was exacerbated by the COVID-19 pandemic, and it faces pressure to return to pre-pandemic performance levels. The workforce is exhausted, stretched too thin, and needs more people, which Brexit has further hampered.
At the same time, there's beginning to be a shift to integrated care with an amalgamation of primary, secondary, and social care to help address the disconnect between health and social care. And the adoption of digital technology within the NHS that accelerated during the pandemic shows no signs of slowing, while the system works towards true digital transformation.
The Promise of Digital Transformation
I joined Nordic in January 2022 to build its UK advisory practice because I believe in the mission of connecting people, data, and technology to create a better world. This mission fits seamlessly with the NHS' long-term plan, and we have an opportunity to make a real difference in the lives of patients and clinicians. Our work in the UK supporting NHS trusts with the implementation of electronic patient records (EPRs) and connecting legacy systems aligns with two of NHS' digital transformation objectives. First, to give health and care staff the technology they need to complete administrative tasks more quickly and free up time to spend with the patients. Second, to set standards that keep information secure and ensure NHS information technology systems talk to each other to provide health and care staff with complete access to connected patient records.
To carry out digital transformation successfully, technical implementation is only one piece of the puzzle. At Nordic we've moved from simply providing technical resources to building an end-to-end advisory service for electronic health record (EHR) implementation. This includes everything from helping clients develop the business cases for investments to helping them choose the best system tailored to their needs whilst providing value, and then providing the clinical and operational change management to help our clients realise the benefits of their investment.
We've built a UK team with a right mix of technical, operational, and clinical knowledge. By bridging experience in technology and health operations in the UK, we can translate technology developed internationally into the UK context. Because we are system agnostic, the advantage we offer is the ability to really assess a client's needs and prescribe a system that will have a positive impact on patient care whilst providing value for money. We also focus on total cost of ownership. We don't just examine the upfront cost of acquiring the system – we examine the lifetime costs to create operational efficiencies over the long term. And our knowledge of the full suite of EHR systems allows us to advise NHS Trusts appropriately over the total lifetime of the system above and beyond the sticker price.
Delivering on the Promise
Selecting an EHR platform is often the easy part. Putting it into practice and realising the benefits can present massive challenges. We underpin everything we do with project management and change management. From a change management perspective, we work with the relevant NHS System' stakeholders to ensure both their clinical and operational stakeholders are aware of the change. We create a system where we have internal champions of the change, which leads to better adoption. Post-implementation, we help NHS Trusts to revise their operating model, which leads them to examine both the financial and operational efficiencies they want. We focus not only on the tech implementation, but everything that supports that implementation.
Furthermore, it's critical to make the most of the data. Providing real-time data to healthcare practitioners at the point of care, from multiple sources in one place, ensures they have the information they need to provide the appropriate care. Interoperability solutions can ensure that any remaining legacy systems can share data with the new EHR system to the greatest extent possible. Trustworthy, real-time data should also be used to aid decision-making at the highest organisational levels to make evidence-based choices to aid in realizing greater operational efficiencies and cost savings.
The UK system has challenges, but it has proved over time to be incredibly resilient. The pandemic forced the system to be innovative in finding solutions, adapting the solutions, and reducing the time it took to adapt some of these innovative solutions. This serves as a great springboard for the UK healthcare system to do things differently. And therefore, that makes me quite optimistic about the future of healthcare in the UK. Despite the challenges, the system will adapt and meet those challenges as it's done time and time again. We have an incredible dedicated NHS workforce who are highly resilient and innovative.
In my role at Nordic, I'm passionate about building a team of people with diverse backgrounds and talent and creating a culture of collaboration to ensure that collectively we leverage our talents and skills to solve problems and improve upon the delivery of patient care in the UK.
---
Editor's Note: Are you attending the NHS ConfedExpo on 15-16 June, 2022 in Liverpool? Join us on the evening of 15 June for a rooftop social hosted by Nordic CEO Jim Costanzo, Nene, and other members of our team in the UK. Register here: https://nhsconfedexposocial.splashthat.com/