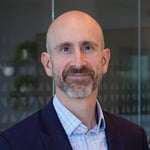 The good news: On the whole, more of humanity is reaching the "senior" age bracket than ever before. But that also means the world's population is getting older. As lifespans increase and family sizes fall, the global demographic mix is changing rapidly and dramatically. In response, the care models we use to support health are starting to change as well. But if we want to keep up, healthcare leaders need to set this shifting landscape at the heart of their planning, building on current trends to develop new tools and strategies tailored to the evolving needs of older people. The goal, after all, is to be healthier for longer.
By 2030, 1 in 6 people around the world will be aged 60 years or over. Every day from now to that point, 10,000 baby boomers in the United States will turn 65. In 2019, there were 54.1 million people over the age of 65 living in the U.S., amounting to 16% of the total population. By 2040, that number is expected to increase to nearly 81 million, with the population share growing to 21.6%. The direction of travel is the same elsewhere. In the United Kingdom, for instance, the number of adults over the age of 65 grew to 12.3 million in 2019, up 23% over the previous decade. And as the number of older people grows, so too does their life expectancy. In the U.S., a caveat is that despite overall longer life, COVID-19 contributed in part to a decline in life expectancy between 2019 and 2021. Nevertheless, the tripling of the number of U.S. centenarians between 1990 and 2020 is a significant trend. Dramatic as these figures are, global immigration trends obscure an even more seismic shift in many developed countries, with an influx of younger people helping to cap the demographic trend. But as these new immigrants age, and as future immigration falls as a proportion of the population, the ratio of older people to those of working age could grow at a speed as high as twice the current rate.
The increasing population of older people and the longer lifespans of those in this group present a unique set of challenges to global healthcare systems. As a person ages, the likelihood of encountering health issues rises sharply. According to a Nordic analysis using data from the Centers for Medicare and Medicaid Services (CMS), nearly 66% of Medicare fee-for-service beneficiaries now have at least two chronic conditions, driving the need for new care models to offer effective and efficient treatment. The CMS Chronic Care Management (CCM) program is one such example of a new care model in the U.S.
Figures from the U.K., meanwhile, show that the average age of onset for disabling health conditions has been falling for more than a decade. This is a global issue, with similar patterns found across developed economies, and one that only intensifies as we succeed in extending life. One recent study suggests that, for most people, the years gained through increases in life expectancy will be spent managing four or more chronic conditions. Put simply, the consequences of our shifting demographics are that more people need more care for longer, and often for more serious illnesses, with increases in all of these trends expected for the foreseeable future.
The challenges associated with ill health among older people go beyond the direct effects of the diseases on aging bodies. To have a more holistic approach to lifelong health, we need to design responses that take the whole person into account. For instance, physical health problems can lead to a greater need for transportation (e.g., for trips to pharmacies, grocery stores, and in-person healthcare appointments), yet 58% of older Americans report that there are simply not enough transportation services available to them. There is a move to fill this gap. For example, Uber's recent announcement regarding grocery and over-the-counter item delivery to Medicare beneficiaries, paid through the Optum digital platform using benefit and fund navigation, makes it easier for the aged to live healthier lives.
As people live longer than they might have expected when planning for retirement, they may also come under unexpected financial pressures, with the cost of care exceeding the financial resources they have set aside. And with increasing numbers of chronic conditions to manage, along with an increasing likelihood of elevated disease state, many older adults experience a lack or mismanagement of care coordination. These factors, along with social determinants of health such as isolation and loneliness, can exacerbate existing conditions and contribute to the onset of new ones.
The healthcare ecosystem is already changing to meet the needs of this expanding age group. But there is more we can do to make sure that capacity matches demand and that systems take full advantage of changing technological and social trends.
A critical step for both improving access to care and conserving health system resources is the rapid implementation and expansion of remote care options. The acceptability of telehealth programs to both patients and physicians was amply demonstrated during the pandemic, which served as a trial by fire for widespread use of this kind of service. Telehealth-based programs are often particularly appropriate for meeting the needs of older populations. The CMS CCM program, for instance, offers a model for the use of telehealth capabilities that can improve the care experience while saving health system resources. Outdated beliefs have tended to promote the ageist idea that older adults must be opposed to the integration of digital technologies in care delivery. However, recent research shows that older people are more willing than expected to adopt new technologies when these enable them to connect with healthcare, shopping opportunities, and social networks, all of which are essential elements of the ecosystem for maintaining health.
This evolving understanding of the needs and capacities of the older population opens up new possibilities for decentralized care. Perhaps most importantly, the feasibility of "aging in place" increases dramatically when supported by recently matured digital technologies. While some seniors will freely choose to live in assisted living facilities, most prefer to remain in their own homes for as long as possible. Whether they need attentive in-home care or require only limited support, digital health technologies such as remote patient monitoring, wearables, and telemedicine can meet needs and wants to significantly extend the window in which this is possible. Many potential touch points can be implemented across a click-and-mortar approach for home-based healthcare. McKinsey has usefully mapped out areas that can be expanded when applying this approach to the older population's group preferences.
The needs of older people are already critical for healthcare budgeting and planning, and they will only become more central as current demographic shifts accelerate. As these trend lines intersect with the maturing of digital technologies and the post-COVID increase in receptiveness to technology within this age group, the door is opening to decentralized care models for older populations. The need and ability to deliver more frequent touch points as people age is merging with increasing health consumerism to create a challenge and an opportunity for healthcare providers. A new sun is already rising on care for the aged, both in America and around the world. But unless we throw the shutters wide open and let that light in, we risk missing out on critical opportunities to improve the healthcare experience of those who need care most.