Maybe you're a healthcare consultant who absolutely loves your work but would love to decrease your travel. Perhaps you have a passion for technology and problem-solving, but haven't yet broken into health IT.
Whatever your background, if you're creative, driven, and passionate about making a difference, Managed Services could be the team for you. As one of Nordic's fastest-growing business lines, Managed Services gives you an avenue to help end users and provide much-needed application support while enjoying the culture and community of a home office team.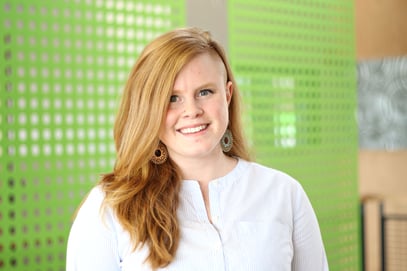 We sat down with Ella Maloney, one of Nordic's most tenured Managed Services team members, to talk about why she loves her job and what to consider before applying.
Q: What would you say to someone considering Managed Services?
Ella: I came to Nordic without any Epic experience, and I think it's important that people know you don't necessarily need Epic experience. We have people on the Managed Services team from all kinds of backgrounds, and this is a great way to get into healthcare IT without having that traditional background. I was a little nervous about moving into health IT at first because my background wasn't in technology. But there is such a focus on learning, growing with each other, and expanding in areas that interest you.
I would also emphasize the growth potential in Managed Services. I was the first person on our Managed Services team at Nordic, and the growth I've witnessed in the last three years has been incredible. The ideas that I hear every day on our team are so cool. It's great to be able to work together on something up-and-coming and build a solid foundation for growth. There's nowhere to go but up.
Q: What kind of person do you think is a good fit for Managed Services at Nordic?
Ella: Someone willing to learn, ask questions, and work with people who will teach them what they need to know. We want someone who will show up and say, "I'm excited about this" and "Can you teach me about that?" Someone who's excited about the opportunity and is ready to absorb, absorb, absorb.
Q: What's your favorite thing about your job?
Ella: Whenever people ask me that, I say, "I literally feel that everyone is smarter than me in the best way possible." I feel constantly challenged and excited by the ideas flying around. And it's not just about people's health IT expertise; they're also interesting as individuals. I've made some really close friends, and I've loved getting to know people and their backgrounds.
Q: Managed Services is often on the front lines of providing support to end users. What do you think you've learned about communication and support during your time at Nordic?
Ella: We are constantly thinking about how to maintain the best customer experience. I think it's partly about keeping it personal and learning who you're talking with. I keep bios of everyone I talk to consistently and their relationship to everyone else, so that I can immediately relate to them and their situation. I try to introduce myself as their coworker, rather than just saying I'm from Nordic. It's all about "we" rather than "us and them."
When people are frustrated, it's so important to make them feel heard. I try to tell people, "I understand you're frustrated, and I'm listening, and I want to do the best I can for you." I will offer up my cell and email proactively, so that they know I'm there to support them. And if I don't know an answer, I'll be transparent about that and commit to finding the answer as soon as possible.
Q: How would you describe the Nordic culture?
Ella: The culture here feels very different than other companies. The people are individuals you want to be around all the time. It makes you want to come into work. I love how involved we are with each other and our surrounding community.
It's also really nice to be in Madison and hang out downtown. That's a big differentiator for consultants who have come off the road or previously had a lot of travel. It's so nice to have a landing spot – to be able to keep doing what you love to do, but do it while building your home base and community.
Q: What do you think of the expanded office space on the 2nd floor, which was driven in large part by the Managed Services growth?
Ella: It's amazing. It's a beautiful space, and it's also so cool to look around and think, "We built this together!"