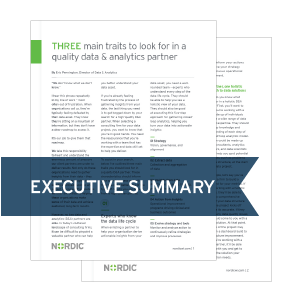 In some ways, selecting a quality data & analytics (D&A) partner can be similar to the process of buying a new car. In both instances, you're in the market for something dependable that can help you carefully navigate any bumps in the road to arrive safely at your destination. You don't necessarily need something flashy, but you want to avoid a lemon at all costs.
And, much like a car lot filled with inventory, today's landscape of D&A consulting firms is filled with options – all promising to deliver data insights that inform your organization's actions. But how can you tell the difference between a lemon and a Lamborghini in the D&A consulting space?
You can start by downloading this guide to selecting a quality D&A partner.
Consider this your Kelley Blue Book of D&A partner selection. In this guide, I break down the three main traits you should look for in a quality partner:
Experts who know the data life cycle
Deep expertise across systems, tools, and technology
Focus on delivering knowledge transfer to your team
I also offer advice for how to determine these factors and what questions to ask during your search, so you don't end up with a lemon for a D&A partner. These characteristics should inform your search process and will help you get a better idea of the types of results you can expect from a high-caliber partner.
If you'd like to discuss your organization's specific goals and challenges with your data asset, please schedule a meeting. We'd love to listen to your needs to determine how best we can support you to deliver actionable insights that lead to improved business and patient outcomes.