Last month, the National Academies of Sciences, Engineering, and Medicine published Implementing High Quality Primary Care: Rebuilding the Foundation of Health Care. This is an update of their 1996 report Primary Care: America's Health in a New Era. (Both of these can be downloaded with a free account from the National Academies Press.) In this new book, the researchers acknowledge that we're nowhere near where we hoped to be back in the late 1990s with respect to primary care. They also reference how the COVID-19 pandemic laid bare any misconceptions that we may have with respect to a functioning (or not-so-functioning) U.S. healthcare system.
The preface of the study sets out why primary care is so important:
High-quality primary care provides comprehensive person-centered, relationship-based care that considers the needs and preferences of individuals, families, and communities. Primary care is unique in health care in that it is designed for everyone to use throughout their lives – from healthy children to older adults with multiple comorbidities and people with disabilities. People in countries and health systems with high-quality primary care enjoy better health outcomes and more health equity.
The committee that created the report outlines five objectives, two of which I'd like to highlight. First, they state that Americans should "pay for primary care teams to care for people, not doctors to deliver services." This may seem like gibberish to some, but those of us who see how healthcare is paid for in this country understand the difference.
Most physicians (even in primary care) are still paid based at least in part on a fee-for-service scheme. This means we get paid for charges that we generate, and those charges can only come – in large part – when patients are seen in the office. The public health emergency occasioned by the SARS-CoV-2 virus gave the government and private insurers the wherewithal to start paying in a serious way for telehealth visits, but still, doctors are reimbursed for patient encounters. Any work that is done outside of actually speaking with or seeing patients remains largely unpaid.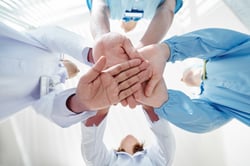 A more sensible, understandable, usable healthcare system would be team-based, not physician-based. Doctors would remain the captains of the team (I can do sports metaphors!), yet still, they would be a part of a larger group of professionals who are responsible for a cadre of patients. In a user-centered (or rather patient-centered) system, the care team would be evaluated not on how many encounters or procedures were offered, but instead on the overall health of the population of patients. Primary care teams should ensure that preventive care is provided. They should ideally be graded not only on the care they provide, but also on the unnecessary care they help avoid or the delays and red tape they help resolve.
The second objective that I'd like to highlight is to "design information technology that serves the patient, family, and interprofessional care team." Specifically, the report states that "effective digital health systems will need to (1) support relationships; (2) support high-functioning interprofessional teams to engage in sensemaking, decision making, and action; (3) integrate care delivery across systems and communities; (4) reduce workload; and (5) make care more equitable." Many people may not think of relationship building or "sensemaking" (new favorite word alert!) as important parts of primary care, yet these are integral healthcare services.
Information technology (IT) must not only be usable with respect to the software itself, but it must help make the healthcare system writ large more usable. We now know that a big part of healthcare depends on social determinants of health (SDoH), hence it's important to represent these factors in the electronic health record (EHR). A user-centric healthcare IT system would make SDoH actionable by allowing clinicians, care teams, and patients to effortlessly leverage offerings from social care networks such as Aunt Bertha so they can leverage programs and services that are out there. Technology must be developed to help everyone who participates in the healthcare system (ok, just "everyone") understand how it functions. In other words, IT can help add transparency to what many consider a black box, thereby making primary care more effective.
Primary care finds itself at yet another crossroads. While we in the U.S. have paid lip service to the importance of PCPs (primary care providers) and medical homes, we haven't backed up the words with actions. The COVID-19 pandemic from which we are just now emerging has woefully emphasized our suboptimal primary care and public health systems. Now is the time to seriously improve our healthcare structures and build on the great progress that we've already made.