Implementing and maintaining your EHR can be daunting. Our partners continue to share with us the challenges in juggling competing priorities and finding time for more strategic work.
In this video (and transcript below), Nordic Director of Managed Services Ian Mamminga shares common concerns and how outsourcing Tier 2 Epic maintenance and support can free up your staff for other initiatives.
If you're interested in learning more about how we can help, contact us. We'd love to connect.
Transcript
Hi. My name's Ian Mamminga. I'm the Director of Managed Services here at Nordic.

I'm excited to talk to you today a little bit about our Managed Services offering and also why we're into that space to begin with. To that end, we've talked with many clients that have had challenges with competing priorities around project and strategic initiatives, but also at the same time how do you keep up with the ongoing care and feeding of your EHR systems? Both of those items require a little bit of a juggling act, and they both also require very skilled resources. In some cases, those are scarce resources. It could be a very competitive market, or it could be the reverse, it could be a very remote location.

In some cases, we've heard from clients it's very tough to keep up and find the right talent in that area. We think this naturally aligns with some of the core competencies here at Nordic, and so w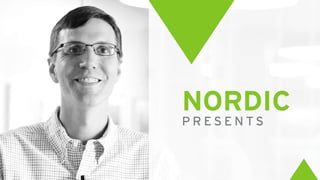 e're excited to be in the Managed Services space. What we're doing in that space is we're helping clients with their Tier 2 support and maintenance of their EHR applications. Tier 2 to us would mean helping through all the break/fix and advanced troubleshooting that comes with that. In addition, it means we help build and configure the systems and also do reporting and testing as some of the optional components of the service.

We think our model is different. We think that's a good thing. We do a very fixed, capitated pricing structure, so we take on the ebbs and flows in the demand curve. Each monthly fluctuation, we help smooth that out and we build economies of scale. In our opinion, win-win situations for us and clients alike. In our model, we also focus on client satisfaction. That's our ultimate goal, is to deliver the best end user experience possible. We also focus on turnaround times and service level agreements, so there's definitely a peace of mind that comes with both of those items.
We're very excited to be in the Managed Services business and help our clients with their Tier 2 EHR support. If anything we talked about today piques your interest, or you want to discuss anything in more detail, please don't hesitate to reach out. Thank you very much.