In part two of our three-part E/M coding webinar series with the American Medical Association (AMA), panelists shared how the updated outpatient documentation guidelines will impact electronic health record (EHR) workflows and necessitate operational changes to take advantage of the new E/M guidelines.
Over the past several years, the AMA and Centers for Medicare & Medicaid Services (CMS) worked together to complete the most significant updates to E/M office documentation in over 25 years. This modified approach aims to reduce the administrative burden for clinicians and healthcare providers and realign focus on what's needed for quality patient care.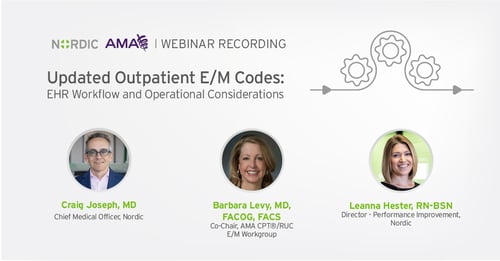 Nordic's Chief Medical Officer Craig Joseph, MD and Director, Advisory Services Leanna Hester, RN joined Barbara Levy, MD, past chair of the American Medical Association's Specialty Society RVS Update Committee, to offer their insights into:
How we got to where we are with respect to the E/M coding changes and an overview of what's changing
Workflow and operational considerations for pre-visit, during visit, and after visit outpatient encounters
What the future might hold for ambulatory documentation and best practices for coaching physicians through those changes
Below you can view the full recording of this webinar,
Updated Outpatient E/M Codes: EHR Workflow and Operational Considerations
. And if you missed our first webinar in this series – E/M Office Visit Update: The Future of Ambulatory Physician Documentation – you can view the
recording here
.
If you have any questions after watching these webinars or would like to discuss how documentation changes may affect your physician, clinical, or operational workflows, contact us at AskNordic@nordicwi.com.
And finally, to support your E/M transition and physician and coder education, we recently launched 2021 E/M E-learning Modules. This pre-packaged solution features three, 30-minute e-learning modules that deliver the core information your team needs to know about the updated 2021 E/M codes. Learn more and contact us here if you'd like to discuss your E/M training needs further.