In the Before Times (for me, that was prior to March 13, 2020), I was a frequent business traveler. I was on the road – a lot. Delta Airlines and Marriott Hotels saw me as a valued customer. Maybe this was because they thought I was charming and good at what I do; maybe it was just that I spent significant amounts of money with them. Either way, I had high-level status on airplanes and in hotel rooms before the pandemic came. Like many, I stopped traveling over a year ago, chiefly because I wanted to follow the public health advice about staying close to home. Even if I didn't believe it necessary to avoid crowds, the doctors and hospitals that I typically meet with were sort of busy at the time, so travel to healthcare organizations was not happening. No frequent flier VIP clubs or concierge hotel floors for me.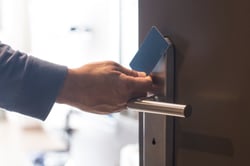 Last week, I took the plunge, went crazy, and – gulp – drove out of state and stayed in a hotel for a weekend personal trip. This was my first hotel visit in a year. I was staying at a Marriott property, as one with Marriott status does, and I was greeted quite warmly by the gentleman behind the desk (much further behind the desk than I recall in the pre-pandemic time). When I got up to the room, I found a very nice handwritten card that said, "Welcome back from everyone at Marriott. We noticed this is one of your first stays back and we missed you! We wish you a pleasant stay and as always, we are at your assistance." While this was nice, I was more impressed by the printed email paper-clipped to the card and accidentally left in my room.
The email that surely was not supposed to be left in my room came from someone at corporate and outlined what needed to be done by the local hotel staff. It noted that I used to travel very frequently but hadn't done so (at least as far as Marriott was aware) in a year. It had instructions on what to handwrite on the card and how to greet me at check in. I read it, laughed a bit, and then read it again. As a frequent traveler, I thought it was quite nice. As a consultant, I thought it was a great opportunity to see under the hood and wondered how the healthcare industry could leverage such methods.
The more technically inclined readers might say:
Craig, don't be impressed by customer relationship management (CRM) software. It's been around for a long time, even if healthcare organizations are generally just beginning to use it. You're not the only one who hasn't been traveling for a while, so the hotel chain has developed a report and workflow to identify folks like you and give you some extra TLC. No big whoop!
I get that, yet...I'm more interested in the transparency aspect. It's one thing to see the result of the work (i.e., the handwritten card). In my opinion, it's more exciting to contemplate what went into generating the card.
Imagine this scenario: due to the implementation of a team huddle at the beginning of every clinic day, when a complex patient is roomed, the nurse is already aware that the patient never followed up with the cardiologist, will need a blood draw today, and prefers to have a warm blanket on her as she waits for the physician. I think it's great if the nurse says, "I've got a warm blanket here for you so you don't get cold. The doctor will talk to you about seeing the cardiologist, and I'll come back and draw your blood after the visit in case the doctor wants to add extra labs." Honestly, that's pretty amazing. But to put a cherry on top, how about adding some transparency:
This morning during our huddle, Dr. Smith and the rest of the care team reviewed your progress so we could make the best use of your visit today. We noticed that you weren't able to make the cardiology visit that Dr. Smith ordered last time, so he'll talk to you about this. He ordered some labs, but asked us to wait until after the visit before drawing them in case he needs to add anything. And since we noted in the chart that you often get cold in the exam room, I've got a nice warm blanket for you.
I think that extra visibility into how the process unfolded can make a big difference.
Transparency can help set appropriate expectations when interacting with healthcare organizations. As the new info blocking rules come into effect soon, patients will often get their lab and imaging results at the exact same time as their doctors. To make this obvious to their patients, some systems are adding a message when informing patients of result availability via the patient portal. Instead of the simple (and PHI-sparing) email message, "You have a new result; click to log in," the patient often now sees, "You have a new result. Be aware that your provider may not have viewed this result yet. Please reach out to your provider via the patient portal with any concerns or questions." It's important to make it obvious that a change may have occurred with respect to how results are released so patients are aware.
Some might reasonably wonder if too much transparency can be deleterious. With respect to healthcare, I don't think so. At least in the United States, paternalism in medicine has been practiced for too long. Letting patients understand exactly how the system works and what the care team is doing allows patients to truly participate as equals in their care. The insights gained from transparency in medicine can improve health, make the system safer, and increase satisfaction with the process.