Nordic Managed Services Analyst Lexi Argall has always had an interest in healthcare, starting back in high school when she worked in her hometown's pharmacy and continuing through to a job in college at the University of Wisconsin hospital. While in her role at the hospital, Lexi found that she loved the healthcare industry but wasn't sure the clinical side was for her. She graduated from the University of Wisconsin with a degree in political science.
After graduation, she landed a role at a Chicago-area hospital where she was working with the effects of healthcare policy. Though she enjoyed working in healthcare, she was certain the environment of a hospital was not for her. Thankfully, her decisions to look for work outside of a hospital led her to health IT and Nordic's Managed Services team. We recently sat down to talk with Lexi about her experiences with Nordic and specifically about being an associate with our Managed Services team.
Prior to joining Nordic, Lexi had light end-user experience with Epic applications. She joined Nordic's Managed Services team as an associate in April of 2019 and was promoted to analyst this summer.
Why did you choose to work at Nordic?
Lexi: After graduating and moving back to the Madison area, I was pretty nervous and didn't quite know what I wanted to do with my life. I literally just started Googling the best places to work in Madison, and, lo and behold, Nordic kept popping up. I had heard a little bit about Nordic, but I did some more research and really liked what I saw. I wanted to work for a company that had strong values and treated its employees well, and I really appreciated that Nordic lived by its maxims. For me, Nordic ticked off all those boxes that I look for in a company.
What does your day-to-day role consist of?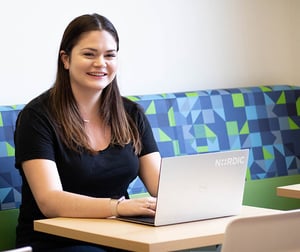 Lexi: I was hired on as an associate in April of 2019, and right away the emphasis was certainly heavy on our maxim, "Grow. Teach." Since I came in without any Epic certifications, one of the first things that I focused on was getting my OpTime and Epic Fundamentals certifications. It was a pretty intensive course with more than a week of classroom learning culminating with an exam, which, thankfully, I passed! I'm preparing for my next round of certification, which will be for Cupid.
In addition to working on certifications, I spend a lot of time shadowing and trying to soak up as much knowledge as I can from my teammates. I have a mentor who, even though she's remote and I've never actually met her in person, I talk to every single day. I also help out with client projects wherever I'm needed. There's definitely a satisfaction with solving clients' problems and helping to close out tickets. Ultimately, I know that I've got a lot to learn, but there are clear benchmarks I know I need to hit to continue my growth here.
What do you enjoy about being on the Nordic Managed Services team?
Lexi: Having been hired as an associate who had no prior Epic administration application support experience, I think it's great that Nordic will even hire someone without health IT experience. Nordic is investing heavily in its employees by assisting with certifications and providing mentoring to have a very well-rounded staff. It's very team-based, with everyone willing to assist each other and help newer teammates grow as much as they can. They're incredibly supportive in my career goals, and I know the exact path I need to take to get to where I want to be.
The Managed Services leadership is so great, they're open and direct but completely approachable. Even though I'm pretty new, not just to Nordic but to health IT in general, I always feel comfortable asking anyone a question at any time. I love that they give me autonomy that makes me feel like an owner, but there's still that accountability to make sure that the work itself gets done.
There are also a lot of opportunities to get involved with Nordic as a whole, which is a really great way to meet people from different departments. We had Community Giveback Week, and it was so rewarding to be able to help out at a low-income neighborhood where we prepared and served a meal for the residents. I've also participated in Nordic's fundraising team for the American Heart Association Heart Walk in October, and we putting together some fun internal events to help with fundraising efforts. I think it's so great that Nordic genuinely encourages their employees' passions and serving the community as a whole, and the fact that we get to do it with amazing people is the icing on the cake.
You've worked in different areas of healthcare since high school. What is it about this industry that you enjoy?
Lexi: Healthcare is unique in that it touches everything, every city, and every person. It's such a complex and dynamic industry where things are constantly evolving due to technology, patient populations, and even public policy. I love that I get to contribute to something bigger than myself, something that touches so many people's lives, from patients and their families to physicians and healthcare systems. It's a very rewarding industry to be a part of, and I'm thankful that I've found a place where I can see the impact of my work and grow in my career.
Interested in joining Nordic's Managed Services team? Check out our full list of openings and apply online.